Congratulations to Amy Cartmell, from Studio H Artist Group in London, Ontario, for winning first place in our "So You Think You Can Style?" Edgy and Elegant Updos photo contest! We love that she incorporated a trendy braid into the stylish updo.
Cartmell's goal was to make the updo wearable, and to hone her skills: "As a fairly new stylist to the industry, I wanted to take the opportunity to test out my talents among other great stylists. I saw this as a great opportunity to learn and improve, while displaying my skills!"
Creating the Look
"My main challenge was that my beautiful model only has shoulder length hair – so to start creating this look, I added a full head of 18″ hair extensions in the Mohawk area. I prepped the hair with L'Oréal Fresh Dust and Wild Stylers Crepage de Chignon to give the hair texture and manageability and then lightly waved all hair with a flat iron. Next, I started the Dutch braid at the nape of the neck and worked my way up through the mohawk area and ended 2″ away from the forehead. I continued the braid to the end of the hair and wrapped it back and pinned it," explains Cartmell.
Our second place winner is Sharon Keller's touseled blonde curls, and third place winner is Sharon Smith's piecey, crimped look.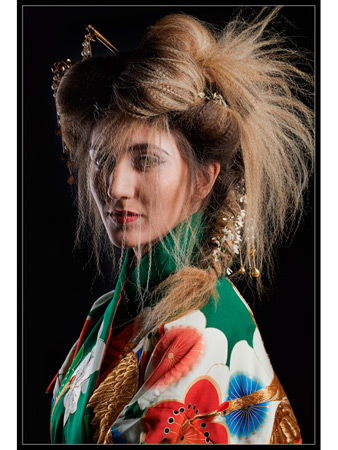 Photo credits:
First place: Hair: Amy Cartmell; Makeup: Emily Atkinson; Photo: Amy Cartmell
Second Place: Hair: Sharon Keller; Makeup: Savannah Belsher MacLean; Photo: Louise Vessey
Third Place: Hair: Sharon Smith; Makeup: Jessica Gignac; Photo: Jeff Buchanan