Congratulations to Richard J, a freelance hairstylist from Toronto, for winning first place in our "So You Think You Can Style?" Luxe Holiday Looks photo contest! The glamourous look definitely grabs your attention, and exudes class and sophistication.
Richard explains: "We wanted to create beautiful images that would be timeless. Also, a long time ago a dear friend/colleague told me about, what we called, "The Fantasy Look". That has always stayed with me and inspires me." Richard used Kevin.Murphy texturizing spray and a Conair double barrel curling iron to create the look. His inspiration? "The look was created by keeping a high fashion vision in mind when deciding on hair and make-up, creating volume and texture were key."
As a freelancer, Richard works on editorial, commercial, video as well as a roster of private clients, and understands the importance of networking. To stylists just starting out, he recommends "volunteering as an assistant to other artists, networking, and getting to know photographers (especially new up and coming ones) and work with them."
The second place winner is Jamie Potts for his elegant side-swept look, and third place goes go Dustin Schumann for his icy blue updo.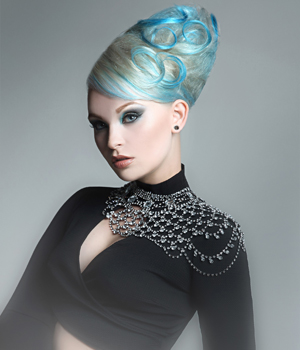 Photo Credits
First Place: Hair and makeup: Richard J; Stylist: Mark John Tripp; Model: Viktoria from Elite; Fashion: Deborah Brown; Photos: Chris Corridore
Second Place: Hair: Jamie Potts; Makeup: Andrea Brown; Model: Morgan Dugas; Photos: Kevin Hewitt
Third Place: Hair: Dustin Schumann; Makeup: Janet Entwistle; Photos: Paula Tizzard