Congratulations to Lauren Green from Aylmer, Ont., on her first-place win in the "So You Think You Can Style?" (SYTYCS) Bold Bridal contest!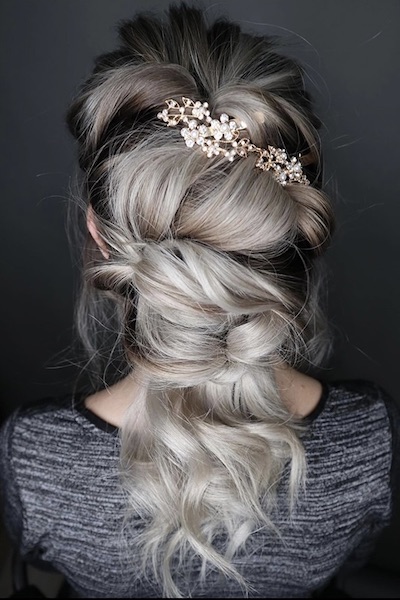 We caught up with Green to find out more about her winning look and what it feels like to win the competition.
Green, who is an independent hairstylist with sixteen years of experience in the workplace, says she entered the SYTYCS contest a handful of times in the past but has always placed second or third, but this is the first time she's taking home the win!
"Thank you so much, I'm so excited about winning. This will be my first time having my work featured in a magazine!"
With a strong passion for hairstyling as a teenager, Green would help her friends with hairstyles for special events, before she officially started her career by attending Marvel Beauty School. Since then, she's grown a name for herself in the industry
For her SYTYCS entry, Green says she drew from both her talent and experience as a bridal stylist.
"Before COVID I used to host bridal parties for my clients all the time," she says. "Now that things are adjusting back to normal, I'm hoping to get that started up again, so the timing of this win is perfect! I love the atmosphere of bridal parties; it's super fun and it's a great morning with a bunch of girls for a special moment in my client's life."
Green says she was able to create her winning look in just five minutes and it has become one of her go-to looks for her clients!
"This look is also really good for junior bridesmaids," she says. "It's super quick and it lasts all night because it's all created with just elastics." Green used a topsy tail to complete this look and used Schwarzkopf Professional's OSIS Powder Cloud spray to add texture, hold and volume.
While she's become known to her clients for her amazing hairstyling and colouring skills, Green says she loves to create very bold and high fashion looks as well.
Green's passion for hair competitions is something that's kept her motivated throughout the years. She's also entered the Contessa Awards multiple times in the past and was a Texture Hairstylist finalist last year. This year, she's looking forward to breaking out of her comfort zone and entering the Avant Garde and Session Hairstylist categories!
"I'm an independent small-town stylist and I was still able to achieve great things in competitions," says Green, who also offers some advice to emerging hairstylists. "Don't be afraid to reach out to other members of our industry to ask for help. Everyone is really helpful and will guide you along your journey."
Congratulations also goes out to our second-place and third-place winners, Ashley Ruecker from White City, Sask., and Gel Baliwag from Dollard-des-Ormeaux, Que.!