Congratulations to Stewart Anderson from Vancouver, B.C., on his first-place win in the "So You Think You Can Style?" Short & Sweet photo contest.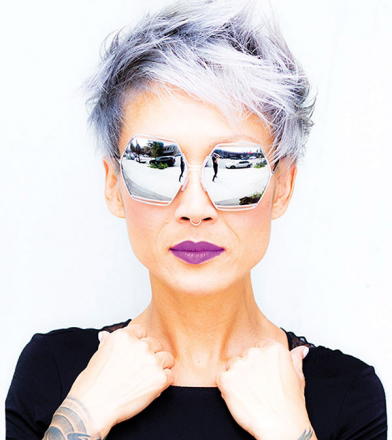 Anderson, who has worked in Vancouver, Toronto and London, England for more than 30 years, says his specialty is short styles.
"This winning look was inspired from a need to showcase more movement in short hair, after years of seeing and creating smoother, more static styles," he says. "The colour was inspired by many of the pastel shades currently being created by the great colourists of today."
Anderson adds, "I used both precision cutting and extreme texturizing techniques to establish this airy, elevated style with a slight asymmetrical feel."
To achieve this look, Anderson used Kevin.Murphy products, from the lightener and toners to the shampoo, conditioners and styling products. "I love Kevin.Murphy products simply for the quality and look of the product line," he says.
Anderson believes that competing is important for motivation and pushing oneself to new heights. "It's a fantastic experience where you can network and learn how to collaborate with others."
Congratulations also goes out to our second-place winner, Marlise Parente, and our third-place winner, Ashli McGregor.
See our past "So You Think You Can Style?" contest winners here and stay tuned for the next contest starting January 26! 
Photo credits:
First place: Hair, Colour, Styling & Photo: Stewart Anderson, Vancouver, B.C., Makeup: Kelli Chan
Second place: Hair: Marlise Parente, Salon Solis, Toronto, ON.
Third place: Hair: Ashli McGregor, Chatters Hair Salon, South Surrey, B.C.