Congratulations to Amanda Thompson of London, Ont., on her first place win in the "So You Think You Can Style?" Updos photo contest!
This winning look was inspired by Thompson's sister-in-law's boho-inspired wedding, in which she wanted to create a look for the bride that would match the theme.
"I decided on a fishtail braid with loose waves coming back and wrapping into it," says Thompson. "I wanted to create something that was boho, but also something that worked with the rustic chic décor."
Thompson has been working in the industry for more than 10 years and specializes in blondes, balayage and hair extensions.
"In order to achieve this look, I first parted her hair to the side, split her two front sections all the way back to the crown and clipped them away. Next, I started my fishtail braid to the side, so it would stay put and flow down. I then loosened the braid," explains Thompson. "Next, I sectioned out large pieces and curled them back, tucking them into the fishtail braid.For her bangs, I curled them lightly towards the back and pinned them. I then used Living Proof's control hairspray to set."
Thompson used various products in this look from Living Proof, including the Dry Volume Blast and Hairspray which she carries in her salon. "I use Living Proof because it doesn't leave the hair feeling like it has product in it, and gives a very natural shine to the hair. It doesn't weigh it down, either; especially the hairspray, which has a strong hold, without leaving the hair feeling crunchy or containing residue."
Thompson hopes to enter more competitions and network with local photographers and makeup artists to create more looks.
Congratulations also goes out to our second-place finalist, Amanda McIlmoyl, and our third-place finalist, Stéphanie Choquette.
See our past "So You Think You Can Style?" contest winners here and stay tuned for the next contest starting September 26!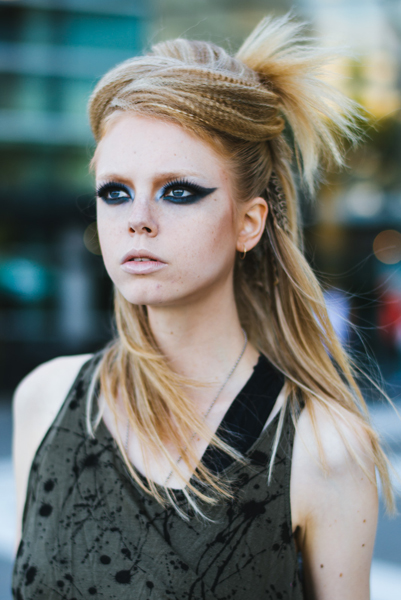 Photo credits:
First place: Hair: Amanda Thompson, London, Ont., Makeup: Hilary Grimm, Styling: Valentina Bridal & Couture, Photo: Jane Little
Second place: Hair: Amanda McIlmoyl, Salon Gloss Hair Design & Skin Care, Coquitlam, B.C.
Third place: Hair: Stéphanie Choquette, MESH Coiffure. Montreal