Tell us about how you got your start in the beauty industry. 
Teaching myself to braid at the age of eight sparked an obsession as fired, inquisitive, exploratory and passionate as it is to this day. My first job was working as an assistant at a prestigious salon in central London, which my mum helped me to land. I was 14, and it immediately felt like home. Not only was this where I could totally be myself, but even as a youngster, my talent was valued. Back then, like today in many places, not all pros had been trained to work with all hair textures. Curly and Afro hairdressers were few and far between in the affluent part of town where I worked, if at all, which gave me a golden opportunity to show what I could do with kinks, coils, curls and waves.
I understand you were self-taught at a young age. Did you always know you were going to be a hairstylist? What about hair appealed to you as a child? 
I taught myself to braid, loc and twist as a young child in defiance of my mum doing my hair, which was always eyewateringly painful and uncomfortable, and the result wasn't even that great! I knew there must be pain-free ways of doing hair, so when my mum said, "Go do it yourself," I was like, "OK then, I will." To this day, "I can, I will, I shall" is a motto that drives me. And so, I set about figuring it out, using whatever thread or twine I could lay my hands on—from unravelling and reforming strings on the mop head to driving my grandma crazy flat-twisting patterns into her beaded curtains. I grew up in a Rastafarian household, and hair was always a vital part of my upbringing and has always signalled love and respect to me. While I didn't always know I was going to be a hairstylist, looking back I remember schoolmates lining up for me to do their hair on the playground and friends and family getting me to style their hair in my free time. The signs were all there!
Tell us about some of your work with celebrities. What are some of your most memorable stories or experiences? 
There have been so many incredible highlights along the way. Creating a durag made with hair for Amandla Stenberg at the Met Gala is something I am proud of and have never seen done before. From film premieres to the Oscars, the hair art that Lupita Nyong'o and I collaborate on is always memorable. One funny experience we had was in Nigeria on an editorial photo shoot on location [and we had to use] the wardrobe stylist's iron to do the job instead, which we found hilarious, and fans on social media did, too. Working with Serena Williams for her Vanity Fair cover during her pregnancy was an honour. Willow Smith is a phenomenal artist that I have the privilege of working with who is unbothered by convention or other peoples' expectations of what their hair should look like or what it should do.
What do you enjoy most about celebrity hairstyling? Any tips for other hairstylists who might be interested in working with celebrities? Anything they should keep in mind? 
What I enjoy is the art of exploring and creating with hair. My tip for hairstylists interested in working with celebrities (and people, whether they are famous or not) is to treat everyone who sits in your chair and their hair—no matter what its texture, whether kinky, coily, curly, wavy or straight—with reverence, respect and value. The thing to keep in mind is everyone wants to feel their most beautiful, and as Maya Angelou said, "People will forget what you said or what you did but will never forget how you made them feel." 
You've been recognized as a champion of textured hair. Tell us about that and why it's important to you to educate others about curly and coily hair? 
I've always worked with all hair textures, which includes straight hair, but my work with Afro and curly hair is most often showcased. Today, curls, coils and kinks being celebrated by influential and successful women is helping to shift the narrative of what is "beautiful," and we're seeing more flexibility, not only with hair textures but also with colours, styles, shapes and sizes of hairstyles being worn across all genders. It's important to me to educate and excite others about the limitless possibilities of hair because all humans have some kind of relationship with hair, no matter how much or how little of it you believe you may have, and this is a vital part of ourselves, deserving of love, recognition and validation. 
What tips do you have for other hairstylists who might be interested in working with curly and coily hair but feel intimidated or aren't confident in their skill sets? 
The first step in understanding how to work with all hair textures is using the correct language because we need to be very specific for successful learning outcomes. Texture means how something feels, and so, by definition, all hair has some kind of texture, including straight hair. The phrase "textured hair" has become a catch-all euphemism for kinky, coily or curly hair, which can be misleading, so let's use these words instead to be clear about what is being talked about and worked upon. Every single professional hairdresser has a responsibility to educate themselves on working with all hair textures because we have a responsibility to our clients to do the very best. With global education platforms, there really is no excuse for being underskilled. At the end of the day, hair is hair, whether kinky, coily, curly, wavy or straight, so let's make salons safe and welcoming spaces for all hair textures to be served, no matter the individual wearing them, and for all genders.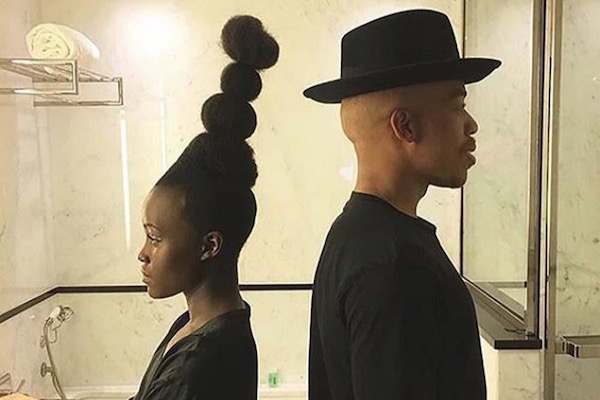 You also work with Redken as a global consultant and educator. Tell us about that and what you enjoy most about your role. 
Being a global consultant, celebrity hairstylist and educator for Redken is something that I still pinch myself about today. It's a highlight that's hard for me to register at times because, growing up, I was led to believe my dyslexia would hold me back. Working with this brand, I kid you not, has been an ambition of mine since I was an assistant. I'm not sure exactly how it happened, but am forever grateful to have come onto their radar. Redken and I are authentically aligned in speaking to all hair experiences, advocating for full inclusivity, in front of and behind the camera, at all costs in an industry that is layered and complex.