On Sunday, March 29th, Muzik night club in Toronto was overflowing with a crowd eager to see Revlon Professional's first ever Salon Masters event. Hosted by ET Canada personality Rick Campanelli, this show was packed with talent and creativity.
For the first segment, Miquel Garcia and Maurice Fiorio spoke about the new Bellissima collection shot in Ibiza, and Fiorio lead his team in a live styling demonstration on stage.
Models walked the stage with Style Masters looks, and texture was definitely in the spotlight. Timothy Kuo and Loretta Tom created the looks, including neon threads and pin-tight curls. Adrien Carew was named the Canadian Style Masters finalist and will be of to Rome of this year's Style Masters competition.
The models donned futuristic nails complete with LED lights from CND. Jennifer Mather lead the team to create unique and inspiring looks for both segments.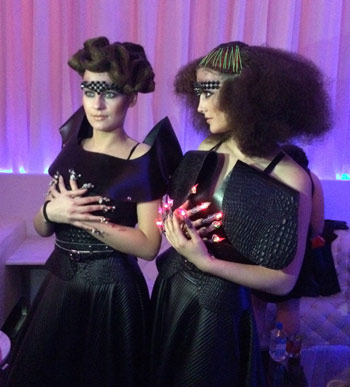 Featuring sport, classic and trend looks, the American Crew segment left many swooning in the crowd. Celebrating the brand's 20th anniversary, David Raccuglia spoke of American Crew's success, and presented David Andreas Kykiris as the Canadian finalist for the All-Star Challenge in Rome.
Salon Masters also featured looks from the Revlonissimo Colorsmetique collection, and announced actress Olivia Wilde as spokesperson for the brand.
Check out our Instagram, Twitter and Facebook feeds for behind the scenes shots.