This year marked Salon Magazine's 20th Anniversary, and to celebrate we featured one of our favorite covers from the past two decades in each print issue and found out where the cover artists were now. Here's your stroll down hairstyling memory lane!
No.v + Dec. 1997 – Holiday Chic
Stylist: François Prieur, Swizzlesticks Salon/Spa, Calgary
The Look: Clean lines, pulled back off the face and backcombed with maximum height added at the crown. "I had just learned this technique and was inspired by it," says Prieur.
Then: At the time, Prieur had just joined Civello at Toronto's Rosedale location. With 15 years of experience, Prieur was looking to further his career and do some editorial work. In 2002 he relocated to Calgary, where he is with Swizzlesticks Salon/Spa.
Now: As a director at Swizzlesticks he is responsible for apprentice education and believes that ongoing education is key for stylists at every level. In fact, Prieur says that even he's "always keeping up with education."
April 1998 – Texture throwback
Stylist: Domenic Iannuzzi, 1998 Canadian Permanent Wave Hairstylist of the Year
The Look: The idea was to complement the makeup artist's butterfly-esque makeup. "I thought we could do texture and something away from the face. Then, I saw the model and she had straight, limp hair to her shoulders," says Iannuzzi. "It wasn't ideal, but I set her hair like you would a perm and it worked out really well."
Then: The then-26-year-old had been in the industry for 10 years; shooting editorials and collections for six; and, the owner of Toronto's época Hair Group for two.
Now: With a staff of 20 plus-—compared with five in 1998—Iannuzzi is still owner of época Hair Group. "One of the biggest changes I've seen in the industry is in education. With the internet readily available and social media and webcasts, it's easier to stay connected to trends and education and what's happening around the world."
Jan. + Feb. 1999 – Creating a winning collection
Stylist: Daniel Benoît, Pure Salon, Montreal
The Look: "This was from a winning Contessa collection. I wanted to create something chic, but very wearable—easy and sophisticated all at once."
Then: "Pure had been open for just over a year. The whole team was on fire! We chose a gorgeous model and did great hair, but had no real plan in mind. There was no concept or storyboard for a collection. Things just basically fell into place."
Now: "We learned so much from those first photoshoots! The whole process really made us grow. Fifteen years later, we're much more structured when it comes to creating a collection for the Contessas. We discuss the tiniest details of a collection—from the lighting right down to the exact shade of strand of hair. We are definitely more prepared now than we were back then."
Nov. + Dec. 1996 – Curls are still in
Stylist: Louis Hechter, L'Oréal Professionnel portfolio artist and owner of Orbite hair salon in Montreal
The Look: Super-tight curls, reminiscent of the '70s, heralded the comeback of perms in the fall of '96. "That was an interesting look back in the day that has somehow managed to become sort of a classic," says Hechter.
Then: Orbite opened in 1990. The salon quickly made a name for itself as one of the most coveted beauty destinations in the country. Since then, Hechter and Orbite have racked up the prizes. In 2002, he and his team were recognised with seven Contessa awards, including Canadian Hairstylist and Canadian Salon Team of the Year.
Now: Hechter has a multifaceted career that includes working with A-list celebrities, such as Celine Dion and Shania Twain, being a portfolio artist for L'Oréal Professionnel and also styling hair for actors and musicians. This past summer he worked with the celebrated band Macklemore and Ryan Lewis, who shot their latest video in Montreal.
Aug.+ Sept. 1996 – Sustaining Your Passion
Stylist: Adrian Carew, owner of Hair 2 Inc., Toronto
The Look: "That was an interesting look back in the day. Big, bold, contrasting colours were in. The colour alternated, black streaks added to the blonde. I styled it with lots of texture and a wet look."
Then: In 1996, Carew was six years into his career and an Avant Garde finalist at the Contessas, after he won a Contessa for Newcomer Hairstylist in 1994. "Hairdressing was my love and I was grabbing all the different aspects the industry could offer," he says. "I was building the ground work to where I am today."
Now: A salon owner, Carew has a multi-faceted career that includes styling hair on the Marilyn Denis Show, a full roster of clients, including some celebrities, and editorial work for various publications. Over the summer, Vogue Italia published an editorial online that he created, something he calls "the height of anyone's career" and to date, one of his proudest accomplishments.
March 1997 – Men's Hair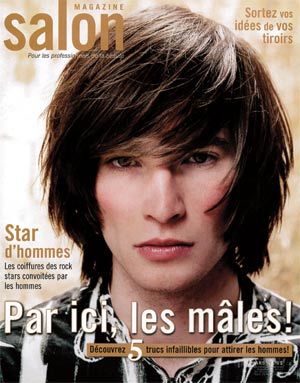 Colourist: Kelly McCarthy, Donato Salon and Spa, Mississauga, Ont.
The Look:"We wanted to have hair that was wild and fun, representing the '90s. I did a straight colour for him because we wanted to make it darker."
Then: "I had been with Donato for five years and was still new to doing photoshoots. As an apprentice, John Donato would take us on shoots with him, but I hadn't done a lot of hair like that myself."
Now: "I've been at Donato 20 years and now I'm in the salon part-time as I'm pursuing work on commercials and TV. I honestly love seeing my work on TV and knowing that people across Canada or the U.S. are watching and seeing it."