Are you ready for the party season? Get your salon team inspired and equipped with six of the newest nail collections.
Cuccio Colour Veneer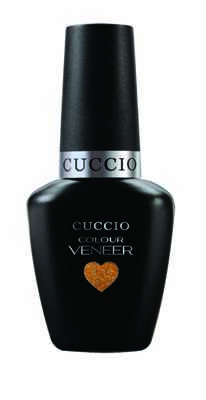 Three new sparkling hues join the Cuccio Colour Veneer palette in Manhattan Mayhem, Russian Opulence and Hong Kong Harbour—classic choices for a sophisticated mani.
Artistic Nail Design What Kind of Woman Are You? Holiday 2013 Collection
This foursome of dazzling colours are sure to be in demand during the upcoming party season. Inspired by rose gold gel polishes, Glamorous, Gorgeous, Gold Digger and Goddess have unique interpretations on glitter.
Essie Encrusted Treasures
This jewel-inspired collection of six makes glamour as easy to give as the snap of the finger. Belugaria is a black-laced textured glitter; Peak of Chic shows off an alpine white holographic hue; On a Silver Platter delivers an antique metallic colour; Lots of Lux is all about the lapis lazuli blue; Ignite the Night is a deep hematite; and Hors D'Oeuvres fuses platinum gold with silver glitter.
It's So Easy Holiday Nail Art Kit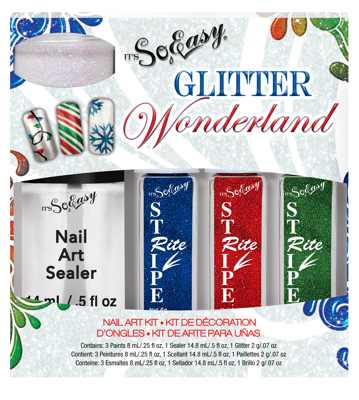 Ideal as a stocking stuffer or an easy in-salon kit, Glitter Wonderland includes three Stripe Rite colours in Blue Glitter, Red Glitter, Green Glitter, White Loose Glitter Pod and Nail Art Sealer.
Morgan Taylor The Royal Life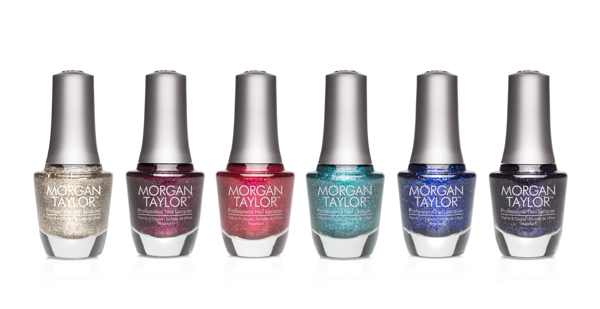 This luxe holiday collection offers limited edition colours inspired by rare and precious gems and jewels: Regal As a Royal, To Rule or Not to Rule, Where's My Crown, Wrapped in Riches, Sapphires, Rubies and Emeralds Oh My, and Fit for a Queen. The shades are also available in packs of three—ideal for retail gifting.
OPI Pack the Essentials
Just for the holidays, OPI puts together a pretty package of five classic nail lacquers, including Bubble Bath, Tickle My France-y, Big Apple Red, Lincoln Park After Dark and My Favorite Ornament, along with Start-to-Finish, a treatment that can help protect nails in the winter conditions.
Images courtesy of Cuccio, Artistic Nail Design, Essie, American International Industries, Morgan Taylor and OPI