Find out what the big hair colours for Spring/Summer 2014 will be according to the runways, celebrities and pro hairdressers.
2014 Hair Colour Trend: Sombre
Harsh ombre is giving way to a more subtle gradient colouring effect, according to Kim Vo, celebrity hairstylist, salon owner and TV star, who dubs this year's big hair colour trend as "sombre" (soft ombre).
John Jen Hoe Chong, who has won several Canadian Hairstylist of the Year Awards, agrees. "The ombre trend will still be around and it's all about natural colours, long layers [and] soft lines."
Runway: Burberry, Calvin Klein & Ralph Lauren.
Celeb style: Sarah Jessica Parker's perfect gradation.
Hairdresser inspiration: A softer ombre by Vivienne Mackinder; Colour: Sue Pemberton; Makeup: David Maderich; Stylin : David Widjaja; Nails: Angi Wingle, CND; Photos: Julia Pagadina.
2014 Bold Hair Colours: Bright, Punchy Tones
While spring is usually ruled by pastels, this season's fashion colours were punched up on the runways, coming in bright fondant & sorbet shades, rather than washed out, lighter hues. The Pantone Colour of the Year is Dazzling Blue. Bright tangerine is having another moment in the fashion and beauty worlds. It's safe to say rainbow brights are making a huge comeback this season.
"If we look to fashion we are seeing metallics and jewel tones…which can easily be translated into the hair colour palette," says Timothy Switzer, Contessa winner, Goldwell artistic director and global colour master.
Runway: Marc by Marc Jacobs, Prabal Gurung & Tracy Reese.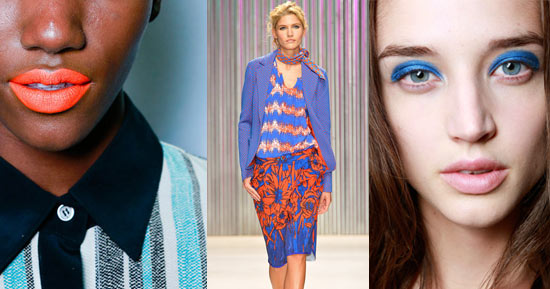 Celeb style: Demi Lovato, Kylie Jenner and Zachary Quinto were al inspired by bright blue this past year.
Hairdresser inspiration: Dip dyed blue by Dimitri Tsiknaris; Makeup: Kaliope Thomas Styling: Thessy Kouzoukas; Photos: Jason Zambelli.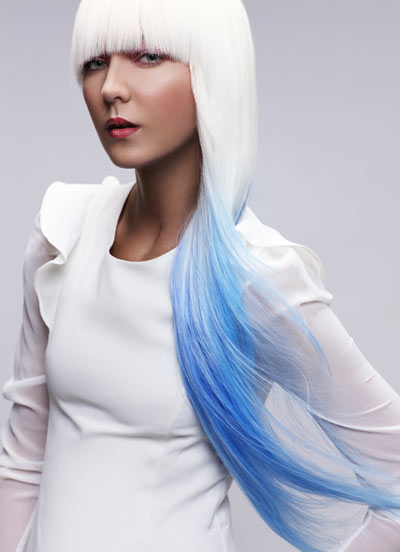 2014 Hair Colour Shade: Bronze
Whether it's nails, makeup or accessories, bronze is going to be the metallic trend for the upcoming season. So it's no wonder that the lines between dirty blondes and golden browns are being blurred. Dubbed "bronde" by Kim Vo (who called this trend in the fall), expect blondes to go in a more natural direction, while brunettes look for subtle ways to lighten up.
With stars like Naya Riviera, Kim Kardashian and Ciara recently rocking blondey-brown hues, it's safe to say that hair colours will be trending toward the caramel side in 2014.
Runway: Gucci, Phillip Lim & Proenza Schouler
Celeb style: Naya Rivera at the People's Choice Awards.
Hairdresser inspiration: Golden Brown by Errol Douglas, assisted by the Errol Douglas Salon Colour Team; Makeup: Naoko Sointu; Stylist: Thea Lewis; Photos: Andrew O'Toole.
Photo credits: Runway: Style.com; Celebrity: Thinkstock.com, Demi Lovato's Instagram, and Naya Rivera's Instagram.