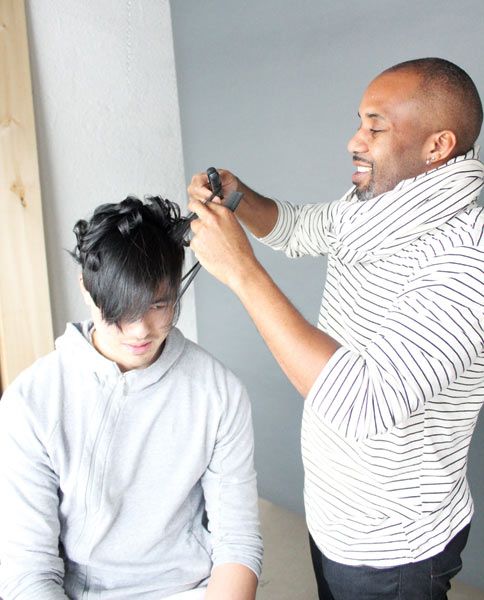 Cover artist and Contessa winner Caffery VanHorne shares his 15-year trip through the industry.
He's been a salon owner (twice), a Contessa winner (twice), the 2012 runner-up in the American Crew Global Face Off competition in Canada, worked on editorial shoots at home and abroad, and has styled hair, clothes and even houses. But now, after 15 years, Caffery VanHorne is at a crossroad. After closing his salon in December 2012, "now, for the first time, I'm not 100 per cent sure what I want to do," he says. He's cutting hair a couple days a week in a 100-sq-ft. space, quite profitably, making enough pay the bills and go to Florida for the photoshoots he loves to create.
"I always comes back to something I said on my very first resumé in high school: 'I'd like to be a pioneer in the field of visual image,'" he says. "I don't know what that means right now, though. Creating iconic photographs? Working in artistic direction? Putting together a line of beautiful clothes? Something that's new and visual."
VanHorne never set out to be a hairstylist. Not even when he was flipping over trash cans in the boys' bathroom at school to turn it into a makeshift barber shop. "I just knew how to do it and it was lucrative. From that angle is how I got into it," he explains. "It was never my life dream." By age 18 at the International Academy of Merchandising and Design, he worked on sets in his spare time, doing hair for photographers' test shoots and making a couple of bucks in the process. But being a realist and seeing fashion students come out of school with no back-up plan, he decided to attend hair school at the same time, as a sort of plan B. 
Thinking Strategically
Finished with both hair and fashion school, VanHorne decided that he wanted to do editorial hairstyling. "I went to work for a salon that was in the same building as Elite Model Management. It was a strategic decision and it worked. I thought eventually I would get models as clients and I did," he says. "Then, they referred me to photographers they shot with, and then tests led to jobs."
Session work was still hard to come by in Toronto, though, so VanHorne picked up and moved to London, England. There, his love of fashion led to a fateful meeting with Michelle, the woman who would become his new boss at a salon called The Hair Force in Kensington. His work made the cover of the January 2000 issue of Black Hair, a moment he calls "amazing" for a stylist of 22. "Michelle introduced me to people who worked on videos and photoshoots. There were not many people working with extensions at the time, and I started getting subcontracted out to attach hair. It was a hush-hush kind of thing, but it's how I really started to make money," says VanHorne. 
See a video of Caffery at work on our April 2013 issue cover!