Throughout this year, Sharon Blain, an educator and Australian-based hairstylist of more than 55 years, has been busy with her final world tour, making stops on five different continents! We spoke with Blain when she was in Toronto for her class at Wella Studio to learn more about her decision to stop touring, the importance of ongoing education and some of her biggest secrets to a long and successful career in the industry.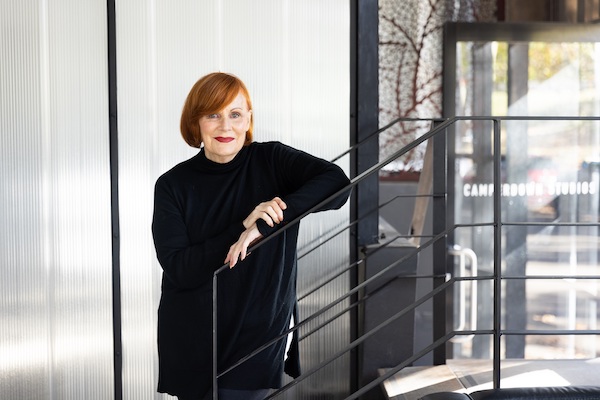 This is your final world tour. Can you tell us why you've decided that now is a good time to step away from teaching?
I felt that travel was very difficult during COVID. I got to the point where I had to ask myself if this was something I want to be doing because it became really stressful. Before that, I loved getting on a plane and going places, but the travel side of things has become hard. Also, at my age, travelling with massive suitcases, I felt like there was so much more I could do for the industry without travelling. I still have this mindset that I have to pass my skills on to the next generation. There aren't a lot of people teaching at my age. It's vital that the older generation of stylists continue to pass these skills on to the next generation or the skills will die with us. This led me to my next project, which is a book I've written called The Confident Stylist, and I just wrote down pretty much everything I've taught. I'm happy that I got my thoughts about all of these topics—perming, waves, blowdrying, etc.—down on paper. I've left that legacy out there as well. I feel sad to give up teaching [internationally]. I don't even know if I'm quite ready yet, but I think by the time I finish this tour, I know I'll need a break. I'm going to be more selective about where I teach. If someone is in an area of the world that's on my bucket list and asks me to teach a class, I'll do it, but I'm just going to try to enjoy my life a little more. I won't be stopping and I won't stop using my hands, skills and knowledge, but it will be done in a different way. 
I know you're a very big advocate for education in the beauty industry. Can you tell us about why you think education is so important and how it's helped you in your career?
I'm a self-taught stylist because of the town I trained in and the period of time it was. There was no school for me to train at, so I had to teach myself. I've got all of my qualifications based on me paying for classes and getting my licence that way. It's been a tough journey for me and my learning, but I think that's what made me realize how important learning is. When you don't go to college, you realize that you have to work a little harder to be good at what you do—or at least that was my mindset. I think the education that students are getting now isn't intense enough, so it worries me a little bit for the future of the industry. I'm a real advocate for trying to make sure that those who are doing their training learn to do things really well instead of just getting a tick for an attempt. We need to make sure that the education from schools and colleges is really strong and useful. If you don't sign up for a couple of classes a year in the areas in which you're interested in, it's not going to be long before you feel worn out and tired. It's up to you—no one can drive you to be better. You're in the driver's seat and responsible for where you end up.
What advice do you have for stylists who want to start teaching or creating their own curriculums? 
I think the best way is to align with a brand and try to get into their artist programs. You might only start out as an assistant, but the more you're around good, strong educators, the more you learn. Align with a company you like, and knock on their door. But don't come in as a one-trick pony. You've got to come to them with personal confidence, be able to write and plan your schedules and be articulate in your presentations. There are so many areas in teaching and education where you have to be strong to be accepted. Once I realized that I was a market and a brand, I started taking on small groups of people and it slowly evolved from there. I started getting calls from brands to train their teams, which is when I realized I could make a business out of it. It's not going to happen overnight.