An inside look at how an award-winning hairstylist from Saskatoon built a tech company garnering international attention.

What motivated you to start your company, Salon Scale?
After being a salon owner for six and half years, I found I was learning more about the business and less about hair. At the time, we were doing a renovation of the salon, and I was at the paint store and saw the machines used to measure out paint colours. At that moment, the thought hit me that we really needed a similar scale for in-salon hair colour.
How do you go from that idea to developing an app?
I knew we needed updated technology and someone who could create it. So I found a local development company to work with. I trademarked the brand name within a month of the initial development of the app, and I was ready to go. When it comes to patents, with technology you can protect yourself with a design patent, which covers how the app looks, talks and interacts. It's all very important and that's what really sets us apart.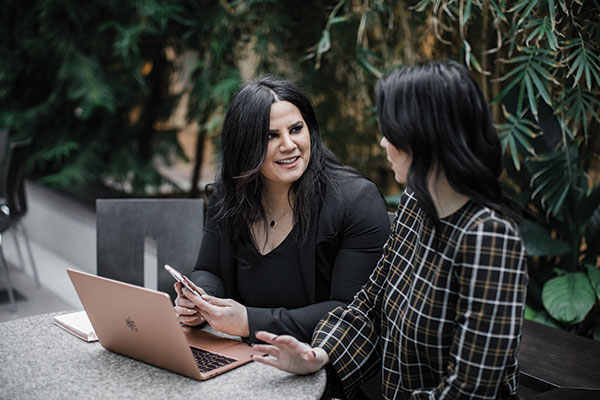 Tell us about the software itself. What is the difference compared to other apps of its kind?
There are a few things. Salon Scale focuses on the cost of the product, rather than waste management. We are female led and predominantly female operated. From the feedback we have received, everyone really loves the design of it. Salon owners and hairstylists are too busy to learn a whole new program, so in developing this app, we wanted to make sure it was seamless and easy. We didn't want people to feel that they'd have to close your shop for a day in order to learn how to use this technology. We've had success so quickly because people can pick it up and learn it within the same day.
Some might see being in a smaller area as a disadvantage, but you don't seem to feel that way. Why?
The fortunate thing for me is being located in Saskatchewan. We are a smaller province, so it was easy for me to talk to salon owners by going door- to-door and ask them about the app, and how it would ideally work.
We were also able to be part of an initiative in Saskatchewan called Co-Lab where we were able to pitch the idea of the app and received financial support to bring it all to life.
What advice do you have for someone with an idea like yours who's living in a remote area?
Know that people who live in larger areas will still help you. You really have to pivot your mindset and realize you have a huge advantage. In Saskatchewan, we're on central standard time, so we can deal with people who are in different time zones very easily. Operate from the standpoint that you have nothing to lose by putting yourself and your ideas out there. No one really cared where I was from, but what they did care about was that I believed in the "why" of what I was doing.
How do you stay focused in all of this?
This is the largest roller coaster I've ridden, and the highest mountain I've climbed. The way I stay focused is visualizing the people the app helps. When you are a new product, you need to be aware of the fact that people are going to be unsure. Whenever I got a negative response, I'd ask questions instead of shutting down.
I was including those people in the development and they contributed and eventually became customers. In my gut, I know deep down that it will help salons become more profitable.
How have you kept yourself motivated to move ahead?
I look at this business the same way I look at every competition I've entered: I have nothing to be afraid of. There are only a handful of people who are willing to take the risk to compete, and that makes me less afraid. I network like crazy because the more support I have, the more belief I have in what I'm doing. Whenever I've needed support, I've asked for help. Everyone involved wants to see this product win because they love the fact that they've helped, and the support has been incredible.
Who are change-makers you look up to as an entrepreneur?
One of my biggest mentors is Katherine Regnier, who owns Coconut Software, which is based in Saskatchewan. This is a software company that provides scheduling to the banking industry and telecommunications companies. I am in the beauty industry, but I'm a software and service model company, so by surrounding myself with someone like Katherine I can understand tech better.
In the salon industry, those who have seen many industry developments are guiding me to create the resources we need. One of my biggest icons is Van Michaels Salon because through my early days, I was attracted to how he grew the ecosystem of salons. He always expressed how important driving data is in a salon's success.
What last bit of advice would you give to entrepreneurs?
I remember one of the first years I was asked to speak to the graduating class at MC College, in Saskatoon. I had written that "You will be successful when you know what that means to you." I feel like that's still the advice I have. You don't need to have a big following; you can still make it without one. There are so many huge industry leaders who aren't accessing Instagram, so don't feel like that's your only way to succeed. Your human connections—not just virtual ones—are what's really important in your success and that's coming from a tech owner.