Ah, the Oscars—the crowning glory of awards season. Whether it's good or bad, we always hope there's at least one actress who takes a risk with her hair style. Nothing's worse than a boring red carpet. In honour of some of our favourite risk-takers over the years, here is a selection of best and worst Academy Awards style.
Julia Roberts
This shot of Roberts the night she won her Oscar for Best Actress in 2000 is a great example of old Hollywood glam done right. From the classy black and white dress to the voluminous, but elegant updo, can you believe this was 12 years ago?! This look stands the test of time and is the epitome of classic.
Madonna
Channeling Marilyn Monroe in 1991, Madonna also paid homage to old Hollywood. With her blond curls, red lips and plush white fur, her look was certainly more theatrical than Roberts' nine years later. Her reported $20 million in borrowed diamonds didn't hurt either. Would you expect anything else from Madge?
Reese Witherspoon
Talk about making an appearance! It may lack the drama of Roberts and Madonna, but Witherspoon's look at the 2007 sparked talk. After winning the 2006 Best Actress Oscar, Witherspoon split from hubby Ryan Phillipe and subsequently disappeared from view. She emerged on the 2007 red carpet making single girl life look good, with longer, brighter loose blond locks and a fresh fringe.
Gwyneth Paltrow
Paltrow usually doesn't miss the mark as much anymore. She had a good "bad" run for awhile though in the early '00s. After the ill-fitting pink fairy princess concoction she wore to accept her Best Actress Oscar in 1999, Paltrow appeared in 2002 in this goth girl get-up. The risqué dress was topped with a hairstyle element that would become de rigeur in years to come: a wrap braid. It added interest to an otherwise severe hairstyle.
Photo courtesy of https://dailycaller.com/
Celine Dion
And the winner for worst use of a hair accessory at the Oscars goes to… Dion! Her hair might have been good, but it was hard to tell underneath the awful chapeau that topped her ponytail.
It didn't help that she appeared on the red carpet in a baggy, satin pantsuit worn backwards. Mon dieu! The diamond-studded sunglasses just added insult to injury.
Juliette Lewis
When Lewis appeared on the red carpet in 1992 on the arm of a young Brad Pitt, it wasn't her date or her dress that got her the most attention. It was her edgy black cornrows. I'm going to guess that the Jolie will not be rocking the same style when she shows up on Pitt's arm Sunday night.
Photo courtesy of https://funnywebpark.blogspot.com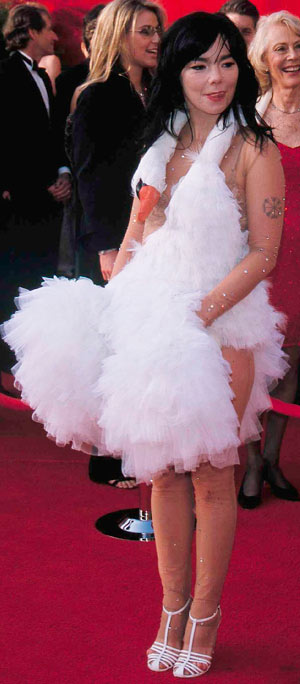 Bjork
The swan was an instant classic. From the moment she hit the red carpet, you knew this was going to be one that would be talked about for years. The hair was lank and unstyled, but that dress was one of kind.
Cher
I'll end with a classic: Cher in 1986. I love this because who else could get away with such an outlandish look? From the spiky bush wig on top of her head to the sparkly black bikini top to the freakin' killer abs, she makes me long for a more colourful, more outstanding red carpet experience. Sadly, I don't think we'll be treated to anything close to this crazy on Oscar night 2012. Please Academy Awards gods, prove me wrong!
Photo courtesy of https://funnywebpark.blogspot.com