When you're better at business than you are at styling hair, here's what happens…
Bruce Peters, owner of Zazou Salon and Academy in North Vancouver, has a zest for competition and a sense of business acumen that has made him and his team a major success on the West Coast. "I don't think I was a great hairdresser," says Peters. "I don't have the creativity and dexterity that some do, but the business fell into place and I have learned the leadership skills." He is also someone who is always contemplating what to learn next, and that keeps him engaged and focused on moving his business to the next level.
We recently caught up with him to talk about his secrets to business success.
Q & A with Bruce Peters of Zazou Salon and Academy
Salon Magazine: How long have you been in the beauty industry?
Bruce Peters: My parents owned hair salons, so I've worked in salons all my life. In the early '90s, my partner at the time and I bought a 365-square-foot salon that was in rough shape. Then in 2008, we moved and opened Zazou Salon & Spa, which expanded our business to a team of 40 hairstylists.
SM: What do you see as one of the key factors that salon owners need to consider before they start hiring and open their doors?
B.P.: In our business, two-thirds of hairstylists get out of the industry within the first three years. That's pretty bad for an industry like ours. At Zazou, we noticed this, and we get hairdressers to the five-year mark through training opportunities and coaching. If you can get your people past three years, that will help you retain them.
SM: How are you doing a better job of hiring the right people?
B.P.: With our academy, it's an apprenticeship environment. We find that we won't hire anyone who hasn't gone to school for hairstyling. The people who have gone to a good school can get through our program fast. They have the basics, including the haircutting and an understanding of the fundamentals of colour. Otherwise we have such a challenge with them.
SM: You've had a lot of community partnerships over the years. Why is that so important for your business?
B.P.: The community gives to us, so we give back. We try to make it light and fun. For example, after our cut-a-thon, we go for drinks with everyone. When we think about getting people from where they are to where they need to be, it's community involvement that gives them a purpose bigger than themselves.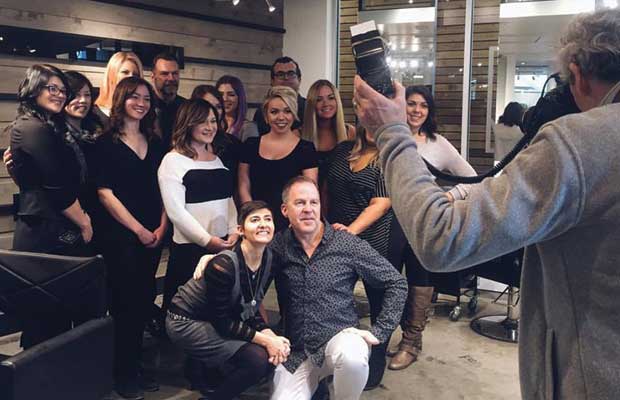 SM: How do you think competitions improve your business?
B.P.: I think it's important for our team to have the opportunity for photo shoots because it exposes them to tools they didn't know they had. Entering competitions pushes them on a creative level that they didn't think they could do and gives them more tools than they had before. It's really a whole lot of fun.
SM: How have you seen the beauty industry evolve? What is the greatest change you've witnessed over the years?
B.P.: I think millennials are extremely important to our industry. They like freedom and so do I, and maybe that's why I relate to them. There is an ever-changing nature in this industry and that's fun because, with this generation, we see a new version. I like to embrace that.
SM: What or who inspires you?
B.P.: I've always been impressed with really good motivational speakers who have a great sense of humour but still have a real impact. Neil DuCoff from Strategies on the business side and Trevor Sorbie combined business and hairstyling in an incredible way.
Photos courtesy Zazou Salon & Academy