Toronto-based men's hairstylist Peter Gosling utilizes education as a means of driving his success and believes diversifying your skills is an absolute must.
How did you get your start in the hair industry?

This is my 16th year cutting hair. I trained at the Aveda Institute and Academy in Toronto. I started my career in women's hairdressing at salons and worked for almost eight years before I jumped over to the men's side of things. I've worked at prolific salons in Toronto, such as Civello, W Lifestyle and Grateful Head.
My mother is a big part of why I'm cutting hair today. She always wanted to be a hairdresser but was never allowed to. I was one of those people that was a little bit lost. I wanted to do something creative, but I didn't know where to apply it, in order to make an honest living. My mom thought the hairdressing industry would be amazing for me and a great way to express myself. She would always say, "You get to work with people, and you love people—you're social!" So, I started my first job as an apprentice at a salon, which she pushed me to do, and I never looked back.
Why was it important for you to learn both men's hairstyling and barbering skills? Do you find that it helps you be a more well-rounded stylist?
For sure! People are losing money by not expanding their skills. I started as a colourist and then became a hairstylist. I was specializing in bobs and pixie cuts for women, but I'd cut my male friends' hair at home. They didn't want to come to a salon because it was "too feminine." I wanted to learn everything. I created an insane clientele for myself. I was so much more well-rounded than other people because I wanted to be. I wanted to learn it all and that really helped me gain more clients and, as a result, make more money.
Tell us about your shop, Glassbox, and how it differs from other barbershops.

I opened Glassbox in 2005 with my business partner, Andrew LaGrave. We realized that the barbershop industry was a fast-growing market. I've worked at several barbershops and everyone was doing this Boardwalk Empire, classic and old-timey barbershop thing. We look to the past for inspiration, but we have to bring that to the future and keep things relevant and fresh. There was a huge gap in the market. Guys weren't getting their hair blow- dried or finessed the way that women were. Men want to be pampered, too! We wanted to open up a barbershop but with the concept of a salon. We would call it a barbershop, so we didn't scare men off with the term "salon," but it would run and operate like a salon. And we exploded! People were drawn to our white space that was neutral, open, and light and bright with greenery and plants. It's aesthetically beautiful, yet we have great skill and are providing an amazing experience. We got rid of the 30-minute in- and-out, rushed business model of a barbershop and made our services 45 minutes, charged a bit more and would offer a beverage and a blow-dry. Upping the price seemed fair because we were providing professionalism and experience; it was the whole package. And we wanted to be inclusive to everybody. We're mainly about short hair grooming but for everyone: women, men and non-binary clients. All genders, races and textures.
You also started an education program and academy. Why did you decide to get into education, and how important is education in this industry, particularly for barbering and men's hairstyling?

Our education program launched a year after we opened. It exploded and has since continued to do really well locally, across the country and internationally. There was a large market—hairdressers were needing barbering classes, and barbers were needing hairdressing classes. We offer advanced classes and a beginner crash course. We need to train to inspire! Our new platform "Barber Begins" consists of detailed videos, explaining everything from A to Z. The online education platform is not only good for individuals, but I'm selling the program to hairdressing schools across Ontario.
A lot of people don't realize that education is something you have to keep doing. Training and developing your skills never stops. When people say to me, "I don't know why my business is not successful," it's because there isn't a focus on continual learning. I still take three to four classes a year, I host guest artists—I want to see what the industry's top stylists are doing and I try to incorporate those skills into my lifestyle and business. If you don't continue to educate yourself, you won't stay passionate. When it comes to education, you're spending money on personal development. Whether it's reading books or attending seminars, the biggest and best thing you can do is invest in education, development and growth. Education and development are the keys to success in this industry—I can't stress that enough.
What has been your proudest accomplishment to date in the industry?

I don't know if I'm exactly there yet, but I am proud that I've created an amazing space for people to come and have careers. I don't give jobs to people; I give them careers.
When it comes to your work, what is your favourite thing to be working on?

I love everything about what I do, including managing a team and running a business. I miss hair shows because they're all about the community and networking. Doing editorial and creative stuff is also incredible. I don't work behind the chair so much anymore; I have five salons now and an academy, but I see myself more as a coach than a boss. I genuinely care about the development of people's skills. I love being creative, but the development of others is probably my favourite part of what I do.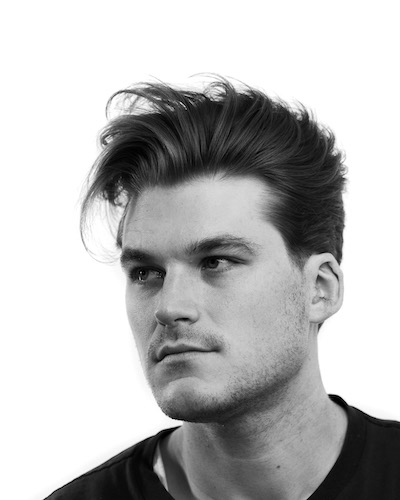 Why do you think it's important that hairstylists have such a strong presence on social media? Do you think being active on social media helps your career as a stylist?
Young people have such a short attention span, which is why Instagram Reels and TikTok were created. People don't want to watch anything for a long time before swiping and seeing the next thing. You need to engage with this new, younger demographic that lives on their phone. To get young people into your chair, you need to be current. I don't use social media to be famous; I use it to educate, inspire and expand my reach. People are a little too wrapped up in thinking you need social media to be successful. You need social media to advertise and promote your brand. It's about development and inspiration.
What impact has the COVID-19 pandemic had on you as a business owner? What advice do you have for people to help them bounce back? Most salon owners were greatly affected and lost both staff and money. The pandemic only affected me because we were closed, but otherwise we had a pretty decent year. We made sure we could take care of our staff, but we survived, and I feel really bad for those who couldn't. I think people are realizing that this is a good industry to be in, though. Although salons are closed (as most small businesses and restaurants are), people are realizing they should start cutting hair. Hair will always grow, and you'll always be able to have work. It's a great industry to come into for that reason, although now is a hard time. But it's a hard time for most industries.