Expansion is often the next step for a successful salon business. Here's how to ensure you get it right from the first step.
We spoke with four experts about their expansion experiences, advice on how to grow your brand effectively and efficiently, and tips for what to look out for along the way.
Tip #1: "Set the Groundwork"
Before beginning to think about expansion, it's important to look at your current business with a magnifying glass. Analyzing key aspects of your business, such as space, revenue and number of clientele, is key for making the right expansion decision.
"You need to have a reason for expansion," says Michael Levine, owner of Michael Levine Salon Group. "It has to make sense. It can't just be for your ego."
Levine, who teaches business seminars, including at the International Beauty Show in New York earlier this year, says getting your salon's systems and practices in order is crucial. "You have to set the groundwork before you expand. You can't even remotely consider expanding your company until you have a manual that includes every single aspect of what a client experiences in your business," he says, "including how to deal with every situation, down to the minutiae. If you don't have all of that down on paper, there are a couple of things that happen when you expand: If you don't take ownership in the new location, things will degrade, or the management in that salon will start to take things in their own direction."
While Levine has experienced many of the benefits of expansion, he has also learned the hard way that it was a lot more of a difficult undertaking than he had anticipated. While his Caramel location in Vancouver was successful for more than a decade, Levine made the decision to close it last year. "I left that salon alone for too long to work on other projects," he shares. "Even though I had my manual and I trained each of my staff, when I came back in to try to fix the systemic issues that I thought were holding us back, I had too much resistance from the team."
"Expansion is not always what it's cracked up to be. It's a very challenging thing, and very few companies are able to do it well." – Michael Levine, Owner of Michael Levine Salon Group
"What often ends up happening when you expand is you further degrade your vision as you have a need for more people," he adds. "If you're expanding within the same city, there are only a certain number of people who are going to buy into your vision."
Tip #2: "Timing Is Everything"
While you want to ensure that you're generating enough revenue for an expansion, it's important to know when the timing is right to turn an expansion plan into action. "Sometimes when your business is busting at the seams, there are downsides to that: The salon is not running as well and people start to leave," says Tony Ricci, owner of Ricci Hair Co. "Timing is everything. It's getting harder to expand because, as salon owners, we're also competing with suites and chair rentals, and for the new kids it's all about social media."
Ricci, who owns two salons in Edmonton, says he would suggest looking at growing your team first. "When you open up a second location, you usually don't have the same time and energy that you had with your first one. You're cutting yourself in half, so your team is really important," he says. "When you expand, you have to make your brand attractive for others to want to work for you. It's really hard to keep the brand consistent if you don't take some of your existing people that you have with you that know the brand and understand how your business operates. You're only as good as your team."
"I would think about taking some of my top people and consider making them part of the company and expanding that way," he adds. "If you have people bringing in $20,000 a month, they are probably going to end up leaving or going to chair rental, so that might be the time to consider going into business together."
Tip #3: "Franchising Is a Totally Separate Business"
When it comes to the increasingly popular franchise business model, very few have had success quite like Kristen Wood, CEO of The Ten Spot. After opening her fourth corporate store in 2012, she began franchising, which has grown her beauty bar business to 37 locations, which are in various stages of development, and expanded from coast to coast—from British Columbia to Prince Edward Island.
"You definitely want to have a couple of locations under your belt before you go into franchising," says Wood. "Franchising is a totally separate business. It's not just about making more locations, it's starting a brand new company. You have a different set of guests—you now have franchise partners as your internal guests. Before you franchise, you need to have a whole new set of manuals, policies, programs and procedures that will deal with taking a franchise partner from signing the contract to having a successful grand opening party and everything in between."
When setting up her franchise business, there were many factors to consider. In addition to ensuring that her franchise partners were able to create a uniform experience in each of The Ten Spot's locations, she needed to secure suppliers across the country. "To learn how to run a franchise company really well took a little while," she shares. "It's not until you deal with the practical side of things and actually have somebody invest money in you [that you realize this]. We want to make sure every service is the same, no matter what location. They are a reflection of our brand as well."
Tip #4: "Location, location, location"
While some businesses choose to expand across the country, Peter Mahoney, president of Salon Resource Group, says his company decided to take a more vertical approach, with 22 salons located in Atlantic Canada. "We have five different brands operating in the same geography," says Mahoney. "The reason for that is because of where we are in the country. For us to expand horizontally, and going into Quebec and Ontario, it's a much bigger proposition."
Wherever you choose to expand, Mahoney says location is key. "There are only three things that matter: Location, location, location," he says. "If you're in a poor location, it's going to take that much longer to ramp up the business. Ideally, you want to be in a high-traffic location that's going to constantly feed you new clients, and you're going to have to pay a premium on the real estate side sometimes, but more often than not it's worth it."
"In salon business especially, many people overestimate the value of their brand when they move it. Some salon owners have a rude awakening when things just don't go as well in the second location; they take longer than they expected them to because they just don't have the brand recognition. The further you go from home base, the more critical all of these factors are." – Peter Mahoney, President of Salon Resource Group
With any type of expansion, it all comes down to the numbers. Mahoney recommends only looking into expansion once the salon has reached 70 per cent capacity. "Anything over 70 per cent, you should think about expanding or opening another location," he says. "The only way you're able to grow is to expand or open a second location. Look at the percentage of sales capacity, debt structure and if there's a strong, positive cash flow.Those are the telltale signs of opening a new location."
"The general rule of thumb is you need to be underleverage," he adds. "Your debt should be no more than 30 per cent of your asset base. My advice is that you want to be debt-free, in some respect. It depends: If it's a chain of salons, you can likely maintain a healthy level of debt but if you're an independent salon owner, who wants to open a second location and already have debt in your structure, you can find yourself in a lot of trouble. You need to be overcapitalized. You need to be able to sustain losses for a period of time in your second location without it having an impact on your first location."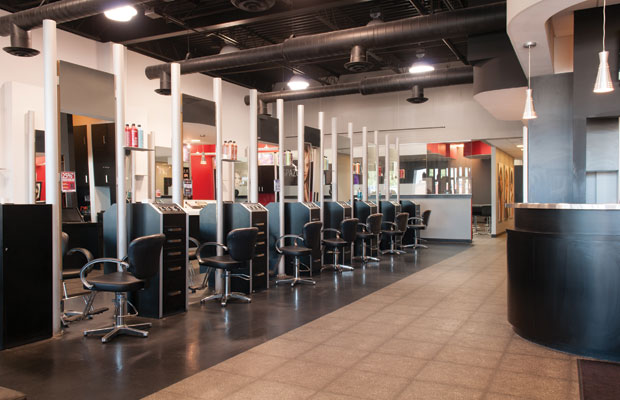 When considering expansion, Mahoney recommends working with external professionals who can provide you with critical advice. "You want to validate the model, geography, demographics and timing, which is a big part of it, too. There are good times and bad times to be expanding in any business," he says. "It's like buying a home: Once you get your emotions involved, it tends to cloud your objectivity. Having an outside person give you advice keeps the conversation objective because their expertise tends to be different."
TIp #5: Don't Forget to Build a Solid Team
With every expansion comes a need for more people. Peter Mahoney, president of Salon Resource Group, shares some tips to keep in mind when acquiring new team members.
Talent Acquisition: "You need to have a recruiting strategy, training strategy and compensation strategy that's going to give you an edge over your competition in the markets you are going into. Having a relationship with the beauty schools is important."
When to Begin?: "You want to start at least six months in advance of when you're going to open. Unfortunately, a lot of salon owners get it backwards; they invest all this time in building a beautiful space, and only when it's time to open do they start to think about who they are going to hire. Now the clock is ticking and expenses are piling up and they are understaffed. You have to start that process well in advance."
Train and Retain: "My strategy is to always develop your own talent. Our model is based on hiring good people, training them and retaining them. For a lot of the value brands, the model is based more on the price point. If I'm opening a salon and my primary point of different is price, then I'm not as dependent on retaining employees, so it just depends on what your game plan is."