With entries open for the 33rd annual Contessa Awards, we're continuing to share tips and tricks to help you with your submissions. Since arranging photo shoots and hiring models may be tricky with lockdown restrictions, we spoke with Contessa photographers Paula Tizzard from London, Ont., Denis Duquette from Moncton, N.B., and Alain Comtois from Montreal, Que., to source tips to help you refresh past work.
In case you missed it: For all categories (except Canadian Hairstylist, Canadian Salon Team and Master Colourist), any past, non-winning work that's been refreshed can be re-entered.
How can hairstylists refresh previous work to make it look fresh, without having to shoot something new?
Paula Tizzard: Choose alternate images from a session that were not edited before. I can start a new edit process for those images and pull together a new collection this way. Although the hair, makeup and model are the same as previous images, a freshly edited collection can look different enough that judges won't view it with tired eyes. Sometimes even just changing the overall colour grading of a collection—switching it up from a colour collection to black and white—can be enough of a change.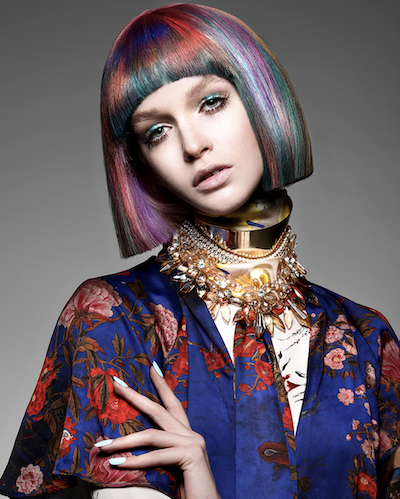 Denis Duquette: While you can't manipulate the hair or hair colour in any way, it leaves free rein on the rest of the image. Consider a new crop or change the colour of clothing/accessories/backdrop. Add in some new elements such as a blur effect to part of the images to give them a new look and feel. You can have your photographer modify the images in different ways by changing the background colour or changing the background altogether.
Alain Comtois: We can refresh images from an old collection to make them new again by keeping the same atmosphere but making small changes like the background or some colours. Cropping the photo also gives very interesting results.
What are ways that photographers can still work with and help stylists with refreshing their entries, despite COVID-19 restrictions?
Paula Tizzard: A collection is a team effort. Emailing screenshots of each step of the process to clients has always been something I do, so that hasn't changed during the pandemic. I have been able to advise clients on how to light mannequins and what camera angles are best for them to shoot on their own during lockdown and I can still edit the images for them.
Denis Duquette: Photographers have become accustomed to doing meetings online. Some photographers have had a lot of success doing remote photo shoots. While you may not be able to see your photographer in person until shoot day, there is a lot that can be done via video chat.
Alain Comtois: Virtual consultations are important—personally, I use Messenger a lot as it's an easy way to communicate by writing to clients and sending them pictures of inspiration boards.
Have photographers been offering any special pricing or deals to hairstylists during the pandemic?
Paula Tizzard: I am hyperaware of the financial strain of stylists and am offering payment plans to those stylists who want to shoot. I know the Contessa deadline is in September, and that stylists in Ontario won't be generating income until at least mid-July, so I am happy to defer invoicing for anyone who needs a little time. 
Denis Duquette: Photographers are generally happy to try and work within a stylist's budget. I have offered payment plans in the past to spread out the stylist's payments. With the new Contessa rules in place where most categories allow the use of one model throughout, the shoot to be done quicker which usually means at a lower cost.
Alain Comtois: Personally, I have made discounts so that people can take advantage and enter the Contessas! I also know that some hairdressers are on a tighter budget right now. It is important to help each other in times like these.
Did you know? For the first time in Contessa history, mannequin heads are permitted for use in your entries!
Photos: Hair: Michelle Nahmad, Blushes, Ottawa, Makeup: Maria Li, Wardrobe Styling: Sirena Shonuck, Photos: Babak; Getty; Hair: Rossa Jurenas, Studio Rossa, Tillsonburg, Ont., Makeup: Florencia Taylor, Wardrobe Styling: Liz Crawford, Photos: Paula Tizzard; Hair: Chelsea Sutherland, Chelsea Laine Salon and Colour Bar, Glasgow, N.S., Makeup: Heidi Fleming, Photos: Denis Duquette; Hair & Wardrobe Styling: Vicky Busque, Hangar Coiffure, Drummondville, Que., Makeup: Gabriel Plante et Émilie Lainesse, Photos: Alain Comtois