With the 33rd annual Contessas—The Canadian Hairstylist of the Year Awards—quickly approaching (entries are now open!), we're sharing tip and tricks to help you with your Contessa collections.
Since planning a photo shoot and hiring models may not be as easy due to the pandemic's restrictions and lockdowns, we've been speaking with experts for their advice on how to still create a Contessa-ready collection!
In case you missed it: For this year only, we're allowing the use of mannequin heads in all Contessa categories! Plus, we have other new rule changes that will make entering this year easier than ever!
To help get you set up for success, we spoke with award-winning hairstylists and experts for their tips on using mannequin heads for creating collections for competitions.
Choosing Your Mannequin
"It's important to choose the right mannequin that has a beautiful and well-proportioned face. Although your mannequin is not a real person, it's important to consider the proportions." — Sylvestre Finold, 2020 BHA Winner, Avant Garde Hairdresser of the Year
"Research your mannequins. It's important to invest in good quality heads. You can always use cheaper mannequins to try out your ideas first. Since the faces, hair patterns, hairlines and texture are all the same, the haircut and styling is where you can create individuality." — Mike Taylor, master barber and founder of the British Barbers Association
"Mannequin heads are much smaller than real heads and they have no ears to use to create depth and no shoulders to create form. I always wanted to do a shoot with these beautiful swan neck mannequins and what better time than during a pandemic!?" — Sally Brooks, 2020 BHA winner, British Hairdresser of the Year
Perfect Placement
"Working with [swan neck mannequins] meant really thinking about the placement and the amount of hair I needed to use. They were also all looking in the same direction, so I had to chop off some of their heads to reposition them." — Sally Brooks, 2020 BHA winner, British Hairdresser of the Year
"There are no restrictions with perming or colouring [mannequin heads] so you can change it and redo it as many times as you like (and you don't need to do a sensitivity test). I used a lot of razor cutting and clipper work [in my collection] so it was really good to showcase these techniques." — Mike Taylor, master barber and founder of the British Barbers Association
"If you are choosing a mannequin with hair, make sure it's good quality hair. I like the brand Pivot Point as they have both qualities I look for—a beautiful, well-proportioned face and great hair. Sometimes I just use a wig and a plain white display mannequin, which can be bought [online]." — Sylvestre Finold, 2020 BHA Winner, Avant Garde Hairdresser of the Year
Get Creative
"Anything you can do on a live model you can do on a mannequin. Generally it's easier, because you can work on a cut over a period of days and it will not grow or change. I was able to get creative with hair tattoos and styling." — Mike Taylor, master barber and founder of the British Barbers Association
"The great thing about working with mannequins is that you can push your creativity and really have fun with it. It's also an invaluable tool on which to practice your craft." — Sylvestre Finold, 2020 BHA Winner, Avant Garde Hairdresser of the Year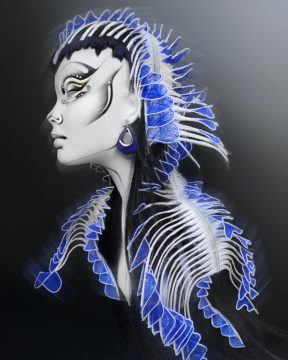 "The biggest challenge I faced was trying to make them look elegant and not like a college project. Once I sorted that out, I kept looking at them and pulling bits off and repositioning hairlines to make them work. I contacted a stylist friend of mine who dressed them—the whole idea was that they were treated like real people with life and individual characters. Making the same facial expression, it takes time and patience to make them look individual and different, but it can be done!" — Sally Brooks, 2020 BHA winner, British Hairdresser of the Year
Photos: Getty; Hair & Photos: Sylvestre Finold @ Metropolis, U.K.; Hair & Wardrobe Styling: Mike Taylor, founder of the British Barbers Association, U.K., Tattoo Art: Trueink Natalie, Photos: Liam Oakes, Images: FPA; Hair: Sally Brooks, Brooks & Brooks, London, Photos: Jenny Hands