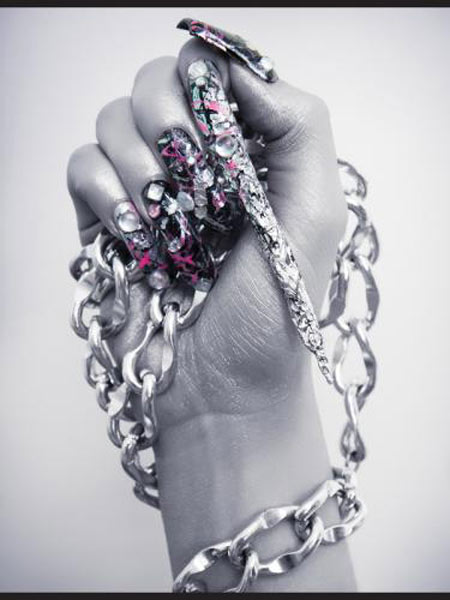 Leeanne Colley, a past Contessa judge and Melissa Forrest from Tips Nail Bar & Spa in Toronto dish some tips on making standout photographs for a Contessa Nail Enhancement entry.
What are some important things to consider when choosing a hand model?
MF: The key is having a relaxed hand model, so that hands are held in a natural way. Any tension in the hands will definitely be portrayed in a photograph. We always ask our nail techs, "Is it absolutely perfect?" This includes the shape of the nail bed, making sure there's a nice curve on the free edge, and when applying nail enhancements or a tip with nail art, ensuring that it is perfectly sized to the nail bed. You want to minimize as much photo editing as possible.
How do you select accessories that won't distract, but complement the nails?
MF: Look for accessories that tie in with the look of the nails, rather than competing with the overall look. For example, if there is a lot of gold on the nail, don't add a lot of silver jewelry. Splashes of silver to accent the gold nails would work better, because it blends nicely into the whole image. Also, if a model is holding an object, for example a champagne bottle, a natural and relaxed gesture is better than something staged. Make it look like she just picked it up.
What makes a good working relationship with the photographer?
LC: Clarity, patience and honesty. Start by giving your photographer a run-down of your ideas, in advance. Collect images from other shoots or editorials that help explain lighting, range and background and send them to him or her ahead of time. Remember, this is your shoot so you need to be very clear and honest about how you would like the end result to be.
MF: Same goes for jewelry—go through the pieces with the photographer so they understand the overall look and feel, and what you want to capture in the photographs.
How do you create continuity between images?
LC: Start with an inspiration. Research through the past finalist images. You never want to repeat a theme that has already been used. Throughout the year, collect images from magazines and websites that inspire you. There are so many ways to create continuity when you have an inspiration. Have an obvious theme. Choose colour, movement or accessories that create a story.
Photo: Catherine Cote, 2012 Nail Enhancement Artist Winner