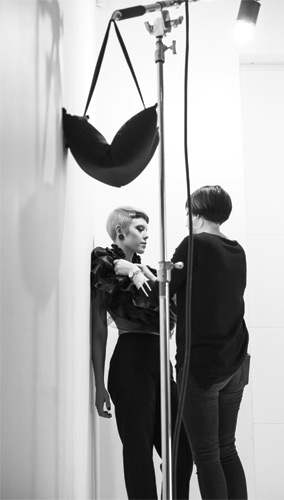 From the heart of a metropolitan centre to a serene rural road, these award-winning hairstylists prove that you can create an incredible photo collection no matter where you live. We asked for their best advice on planning your next photo shoot.
The Photo Pros: Michael Crispel, Jessica Gauvin, Rossa Jurenas, Heidi Kenney, Michelle Pargee
Finding A Sharp Shooter
Across the Nation: Budget wisely. "Choose a better photographer and find a way to make that the bulk of your budget," says Contessa winner Rossa Jurenas, adding that it's nice to have a clothing stylist, but the photographer is critical.
Small Town: Grow your team. Rather than looking for a top photographer, Michelle Pargee suggests that you grow your photographer with the experience you have, which can also enable you to cultivate your creative visions together and grow as a strong team.
Big City: Keep it tight. "When you have so many options, it's important to find the right photographer who will really capture your vision," explains Toronto-based hairstylist Michael Crispel. "You need a similar design esthetic because you want to capture everything on the spot rather than do work in post-production."
Money-saving tip: Expand your reach. "You can find out which photographers may be travelling to your area to work on other projects, which means that you may be able to save on travel expenses," explains Pargee.
"Being from a small village, I didn't have a mentor, but I learned a lot from watching the techniques and styles of other hairstylists in the salon I was working in." – Jessica Gauvin, Frelighsburg, Quebec
Top 3 Reasons to Shoot
Wherever you are in your career or geographically, there's nothing like the creative experience of capturing your work on film.
1) "The rush comes from the idea, seeing the final result come to life and knowing that it came from your imagination." – Michelle Pargee
2) "I want to bring my work to a different level, and while it's more of a challenge to do that now than when I was starting out, I still want my work to grow." – Rossa Jurenas
3) "For me, it's all about the process: piecing together the idea, seeing how it evolves into the final product, and the gratification that comes from pushing myself to do hair that is unique and inspiring and speaks to my clients." – Michael Crispel
On set, Jessica Gauvin takes time to fine-tune the details.
Stay Inspired
Across the Nation: Keep an open mind. "Look beyond magazines and celebrities, and I really believe in storyboards," says Jurenas. She says it helps her stay focused as she builds the concept and story for a photo shoot
Small town: Keep it simple. "You don't need the most complicated ideas in the world," says Pargee. "You need good, clean hair and a nice model. The simpler the shoot and the concept, the better it works."
Big City: Avoid distractions. "When you're in a big city, you have access to so much that there is a different expectation, but you need to stay true to yourself," explains Crispel. "Create your point of view, inspire people—even if it's only one or two—be proud of your work."
Creating a storyboard like Heidi Kenney's will keep the team inspired and organized.
Building Your Team
Across the Nation: Get the right mix. "Chemistry is the most important quality in your team on a photo shoot," explains Crispel, who adds that having lengthy qualifications won't necessarily mean that everyone will work well on your team.
Small town: Find your people. "Now, I'll approach smaller shop owners," says Jurenas, adding that many boutique owners are willing to help, even for an exchange of services.
Big City: Stay focused. "A pretty girl, clothing and hair doesn't create a winning image," explains Crispel. "Before a shoot, we get together in person to get everyone on the same page, which really helps us stay on track."
Model Mayhem
Across the Nation: Connect everywhere Michelle Pargee has developed an eagle eye for selecting models. Case in point: "At a restaurant drive-through window, I told the girl taking my order that she should be a hair model and gave her my card, which has a photo of my work and my awards. She called me the next day. For every four or five calls I get from people I've given my card to, at least two will work out."
Small Town: Go social. "Social media is a great platform to find models when you don't live in a big city or can't afford to book professionals," says Gauvin.
"I found my photographer—a local guy from the Maritimes—by looking at the list provided on Salon Magazine's website." – Heidi Kenney, Contessa 27 winner, Master Colourist