For fall 2012, hair is all about revival and evolution. Even the simple braid is elevated to superstar status, a delicate trellis designed to create form and texture. Hairstylists also channel bouncy blowouts, the iconic 60s ponytail, and bigger–yet well-tamed–shapes. Wearable texture, natural ease and feminine appeal are all part of the equation.
Braids
Playing around with the great staples of fashion shows–plaits, ponytails, French twist–Odile Gilbert offers a resolutely modern interpretation where disparate elements meet and combine. And rather than resembling a mishmash, the details all come together fantastically well, for long hair and short hair alike. The foundation is highly structured–"Get your separations right!" says Odile to her team –whereas the ends are either pasted to the nape or worked with the iron, depending on the length.
"I used L'Oréal Professionnel Tecni.Art Fix Design to create the retro twist because it sets perfectly and mattifies the lengths when dried. It keeps the hair in place, and you can still brush it."
–Seb Bascle, stylist Paris Fashion Week
Embellishments
For fall 2012, hair is ultra-feminine and fresh. Cascades of loose curls, ornamented headbands and feathered headpieces stole the show on many catwalks around the globe. In many collections, the inspiration is retro-goes-contemporary. To create the feather headpiece look, bring the lengths to the forehead and smooth them with a brush into a turban, using an elastic tie at the roots. Roll on the second elastic a couple of centimeters higher to give it height.
"The whole look is really beautiful and exquisite. The hair is a simple, and center-parted with a loose knot. It's based on the idea of the Madonna and religious iconography. It's a 'small head' with a modern touch."
-Guido, Redken Creative Consultant, Milan Fashion Week

"It's a post-war mood, but with a very modern vibe thanks to the current rolled-up fringe and high ponytail."
–Denis Binet, head hairstylist, Montreal Fashion Week
Volume
Big hair makes a striking comeback for fall but, fear not, control is on everyone's mind. The idea here is to create volume and texture by backcombing and using a combination of spray, volumizing powders and mousse. It's all about shape. The new generation of mousses gives body and shape, making the hair easier to sculpt without over-fixing. Jorge Joao, Redken Global Performance Artist and the head hairstylist responsible for the wide array of styles at World MasterCard Fashion Week in Toronto, says of one of his voluminous looks, "This was a fun 1960s movie-inspired look but ultimately with a modern neatness. Instead of the hair being tight to the head, we create more volume."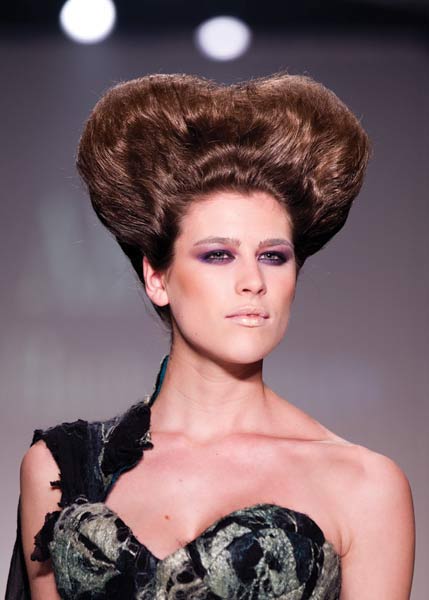 "Designers take the top-knot to a different level, adding mega texture using the Rowenta Beauty Professional Flat Iron and firm hold hairspray."
–Dee Dagher, lead stylist for Rowenta Beauty, World MasterCard Fashion Week, Toronto
Photos courtesy of Aveda, Jimmy Hamelin (Montreal Fashion Week), L'Oreal Professionnel, Redken, Rowenta Beauty, Toronto Fashion Week.