With haircuts from the '70s, '80s and '90s continually becoming more in-demand, new variations of these retro styles have begun to emerge. Trends such as the shullet (shag and mullet), bixie (bob and pixie), shag and wolf cuts all perfectly combine classic elements from multiple hairstyles and enable stylists to create customized looks that enhance their client's individuality, regardless of their gender or expression style.
"The reason I think these haircuts are so in vogue right now is because androgynous styles have never really been out of fashion," says Paul Miller, a L'Oréal Professionnel ambassador and owner of Jax & King Salon in Vernon, B.C. "For example, I grew up in the '70s and I remember looking at the teenagers as a kid and seeing them—both males and females—wearing these styles. Short shags are short shags, and they look virtually the same on everyone. I think they've always been part of our culture, but they're becoming more mainstream because of the political and social feelings that come with them."
"With the ever-growing trend of inclusivity, these haircuts—even in the past— have been worn by both men and women," says Joey Marchese, a Toronto-based hairstylist at Bob + Paige salon, and an educator and ambassador for Schwarzkopf Professional. "I think the reason they're resurging is because they've always been a genderless haircut, as well as the fact that they flow into fashion right now."
The idea behind these "hybrid" haircuts is taking two different hairstyles and combining them into a new and modern style that falls somewhere in between the originals. These haircuts take on multiple characteristics of each style while changing other aspects to create an evolved hairstyle that is somewhere in-between the original two styles. "People need to be able to identify what they're asking for and when you combine two styles to create one, they have a reference," says Miller. "In essence, you're creating a new haircut or a different silhouette from the two styles incorporated, but I think it's more for the client's understanding and the fact that it makes the cuts more relatable."
"Long gone are the days where you have one style that's represented on a model and you try to shoehorn those same styles onto everyone." — Paul Miller, L'Oréal Professionnel ambassador and owner of Jax & King Salon, Vernon, B.C.
The Consultation
Every great haircut starts with a thorough consultation. "There's a criterion of questions we ask to understand the client and what they're looking for," says Monika Lombardi, a Joico guest artist and owner of Moni Hair Boutique and Lombardi's Classic Barbershop in Tecumseh, Ont. "We like to start the conversation by asking about how the client takes care of their hair, what products they use and how they like to style their hair."
"The first question I like to ask is, 'What was the most memorable (unhappy) moment they can remember from a haircut?'" says Marchese. "If the client can give me insight into a cut they weren't happy with, I can stay away from what they didn't like."
Although the answers will differ from client to client, the questions should remain the same for each person in your chair—regardless of gender. "A consultation is a consultation," says Lombardi. "These standard questions lead to so many answers for the stylists. We ask these questions because we want to get to know the client's hair so we can help them leave our salon feeling good about their experience."
"I've never really looked at the client's gender when they're in my chair," adds Miller. "It's not really about whether they're male, female or non-binary; it comes down to their sense of style. It's head-to-toe and all about what they want to represent and what they want to achieve."
PRO TIP: Ask your client to bring in multiple photos of what they want. It's a great way to get direction and a sense of what the client likes and dislikes. It also gives you a reference point to ask specific questions about the style they're looking for.

1 . The Shag
Typically made up of layers that are feathered at the top and the sides of a client's head, the shag is a style that we're seeing more and more of all over social media and on celebrities from Billie Eilish to Taylor Swift.
"Shags have always been around because they're a lot of fun, easy and almost anyone can wear them,"says Miller. "You can play with the proportions; where the volume sits, where you want to collapse volume, and what you need to highlight in the client's face and body. Shags are like jeans; they fit everybody one way or another."
"The shag is a variation of many things, and it goes back to the hair type and texture of a client as well as how they care for and style their hair," says Lombardi, who adds that to create the shag's signature feathered layers, she likes to use a variety of cutting tools. "I use and would recommend both scissors and a feathered razor. The advantage of having multiple tools is that this helps create the shag on any hair type or texture. If someone has curly hair and wants a shag, I'll use my scissors, but if they have super-thick and coarse hair, I'll use a technique with my razor. It's so exclusive to the client."
For Caroline Carter, a hairstylist at The Grove Vancouver who specializes in texture and "precision shags," she says the look can be a lot more versatile than most people think. "I do
think there's this perception around that because the style is long, layered and shaggy, you don't have to be as precise in execution and you can almost be sloppy with it," she says. "It's not like that at all. You have to be aware of how things are flowing together, and I feel the need to be more meticulous with these haircuts. I like to go back in when the hair is dry to make sure that every single piece of hair is perfect because it only takes one hair to throw off how everything is flowing together."
PRO TIP: For dry cutting, try using a 6.5"-length shear since the extra weight will help push the hair less.
For longer shags, Carter says it's all about a forward graduation. "I'm not coming out 90 degrees from the head shape. I'm doing it more like 45 degrees and overdirecting it very much forward and then connecting point A, where the fringe is, to point B, where the perimeter is," she says. "I take each sub-section, overdirecting it to that one point in the front. Once the hair is dry, I will go into the interior and start lifting things up to make sure that everything connects, flows and that it has a smooth dissention within the sections."
"I use a lot of disconnections to make the shapes work, depending on the client," says Marchese. "For me, it's all about the proportions you want to create. That's why my favourite way to cut this look is with a disconnected top section. I like to use a disconnected section on top of the head and then freehand cut the bottom so that I get a seamless blend."
PRO TIP: When cutting a shag on clients with longer hair, consider turning them away from the mirror to prevent them from seeing the amount of hair you're cutting, which can appear to be more than it is and cause the client to worry or feel anxious
Considering all the layers in a shag, it's important to keep in mind how the client styles and wears their hair on a daily basis. "I use undercutting, disconnecting and recreating hairlines to make a style exclusive to a client so they that won't blend with the rest." it like a mullet. It's sort of a achieve that trendy look they're going for," says Lombardi. "I think creating hairlines by removing hair that doesn't shape the cut at the hairline is a great way to deliver the style my client is going for, and it's an important step. I like to remove hair underneath the occipital bone, behind and around the ears and/or the side of the head. These areas will have no connection of blending with the rest of the hair. I also cut into the sections of the hair that won't blend with the rest." it like a mullet. It's sort of a achieve that trendy look they're going for," says Lombardi. "I think creating hairlines by removing hair that doesn't shape the cut at the hairline is a great way to deliver the style my client is going for, and it's an important step. I like to remove hair underneath the occipital bone, behind and around the ears and/or the side of the head. These areas will have no connection of blending with the rest of the hair. I also cut into the sections of the hair
When cutting a shag on romantic and playful way of clients with textured hair, it's revisiting these styles." important to consider your To create it, Marchese angles. "For curly-haired recommends disconnected shags, I do a classic, 90-degree sections, and only using shears out from head shape, wet- and a comb. "I've seen it done layered blunt cut," says Carter. with a razor and other tools, "You're essentially creating but I use a classic 5.2" or 5.5" a circle around the client's shear," he says. "I would use head while making sure that the same tools as I would for you're layering with enough a shag or a wolf cut, but the of an elevation so there won't shape will be dependent on be a short weight line. In what style the client is looking the end, all anyone is going for. Before, you would put a to see is everything falling square shape on a man and seamlessly together."

2. The Shullet
As its name implies, the shullet is a style that blends the characteristics of a shag and a mullet, and is perfect for clients who may not be able to fully commit to a mullet or the many layers of a shag. "I think the biggest difference with the shullet is proportions," says Miller. "Where the shortness is,
the length, and how much layering goes with it. It's not necessarily cutting right around the ear, which is what makes it more shag- like, but you still have that tightness and closeness around the ears and the elongated back, which makes would be a round shape and if they want a more defined look, it would be a square shape."
"It's important to examine the density and texture of the client's hair," adds Marchese. "This will allow you to determine things like interior lengths and how to connect them to your overall length seamlessly."
A key factor in creating a great shullet is the face- framing pieces of the haircut. A good way to go about getting this right is by separating those pieces and figuring out where you (and the client) want them to sit.
Another great way to achieve the perfect shullet is by separating the top section of the hair from the bottom and cutting them separately. Stylists will often start by working on the hair at the nape of the neck, removing weight as well as length.
"Shullets are a lot of fun," says Miller. "They're a very technical type of cut. For the shag, I'm using the highs and lows of the haircut to create the softness, but when you move into a shullet, there are more technical elements through the top and the sides. It's more of a graphic shape; you see the lines. They tend to be a bit higher maintenance because they change more dramatically as they grow in."

3. The Wolf Cut
Some stylists may not realize it, but the wolf cut is another great example of a hybrid haircut—combining a shag and shullet.
"It has the finish of the shullet, with the length in the back and the shortness on the top, however, there's not as much disconnection between the lengths,"
says Marchese. "With the shullet, there's a strong disconnection between the top length and the overall length. With a shag, it's layered evenly throughout to give it more of a shaggy texture. The wolf cut is an evolution of both where the layers are consistent throughout but there's still that shortness at the top with length at the back."
"It has a more definitive corner in the front and not necessarily a fringe," says Carter. "They tend to be a bit shorter with less of a bang than a shag. For a wolf cut, I would probably use a 5.5" or 6.0" shear and do a wet cut, lift everything up and then customize it afterwards."
Another key difference with wolf cuts versus shags and shullets is the styling. "Wolf cuts tend to be a highly styled haircut that's meant to look like it isn't styled," says Miller. "The wolf cut is less lived in than other styles; it's a little less organic in its finish. For cutting, I would use the short- to-long layering technique, but it's a lot shallower and I would leave a bit more weight and length on top, so you're creating more of a curtain feel around the face."
Just like the other haircuts, this style can be customized to suit any client. "Square shapes tend to be described as more masculine because they're a stronger shape, and round shapes tend to be a bit softer, which is generally defined as feminine. So it's about changing our terms behind those shapes," says Miller. "It has very little to do with gender. It's really about playing with the silhouettes, shapes and features, and what the client wants to represent and achieve."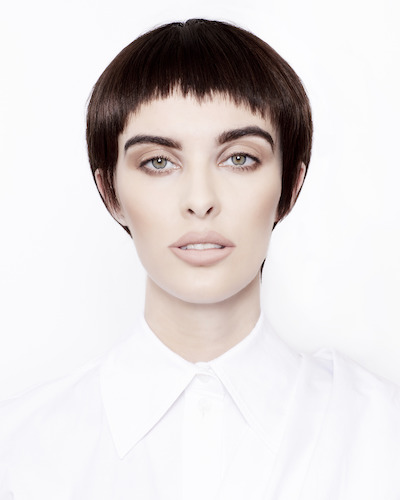 4. The Bixie
The bixie offers the versatility of a bob with the shortness of a pixie. It's a style that's been particularly on-trend this year, as seen on celebrities like Kristen Stewart, Sarah Hyland and Gabrielle Union. "It's a fun little one," says Miller. "This style is like an evolution because we're seeing all these different shapes, and many stylists have cut a lot of bobs over the years. However, now those clients with bobs want to evolve and be a little bit more playful and are doing so with the bixie."
"When it comes to these shapes that are fairly weightless, you need tools that will represent that, in combination with the hair texture of your client," he adds. "For finer hair and very coarse, thick hair, I will almost always use shears because I feel like it gives me more control, while for very dense hair I would use a razor."
PRO TIP: When working with curly hair, consider cutting the hair while it's dry to ensure you're not taking off too much length.
When cutting a bixie, Miller recommends a soft point cut. "I tend to go for a 5.5" shear and I cut inside out so I always look for where I want volume and where I want a collapsed shape," he says. "I first identify what needs to hug the head. If the client has a lot of hair, they can collect a lot of weight on the side areas above and behind the ear. With the layering, it can get bulky through those areas so that's when I'll go in and engineer some disconnections or gentle undercuts to reduce weight and collapse shape. I will finish off by cutting the perimeter and adding a little bit of texture if I need to."
When it comes to textured and curly hair, it's important to tweak your approach. "The difference would be some of the internal engineering in terms of reducing and collapsing weight and volume in certain spots," says Miller. "For textured hair, it's the areas above the ear that you may need to collapse some weight, otherwise it can get too voluminous and can become too round. For the bixie, you want more of that square-round shape. There's more internal texture that needs to take place, or collapsing of volume."
Inclusive Haircutting
Regardless of the cut your client is interested in, it's important to focus not on their gender, but on giving the individual in your chair a style they'll love and that will make them feel the most like themselves. "As a hairstylist, making each client feel very comfortable and being easygoing about it is the best part of my role," says Marchese. "It's your job to make the client trust you and to make them feel comfortable in your chair. We help people achieve what makes them feel the best on the inside and the outside from a look perspective and an emotional perspective. Being able to connect with and treat people equally without judgment is such a great part of our industry."
"As hairstylists, we can't pigeonhole people," adds Miller. "We may think we understand what someone is asking for, but there are so many different variations of styles. We have to dig deeper with our clients and that's the only way inclusion is really going to work."
Photos: Hair: Raquel Saiz & Ulises Peluqueros, Salón Blue by Raquel Saiz, Spain, Makeup: Nacho Sanz, Wardrobe Styling: Quattro, Photo: Esteban Roca; Hair: Felicitas Hair, Spain, Makeup: Virginia — Kuki Giménez Agency, Wardrobe Styling: Visort FashionArt, Photo: Esteban Roca