We had a crazy thought in the office one day: What if the Contessa Awards…was for cats?
Imagine it! The Catessas: The Cat-nadian Fur-stylist of the Year Awards. (Brings a whole new meaning to the phrase "crazy cat lady.")
Here's what we think each category would look like. (Don't worry, no real felines were harmed in the making of these images.)
Canadian Hairstylist
Canadian Salon Team
Elite Master
Master Colourist
Canadian Colourist
Session Hairstylist
Texture Hairstylist
Men's Hairstylist
Avant Garde
Multicultural Hairstylist
Hair Extensions Artist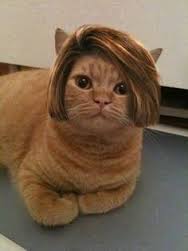 Makeup Artist
Canadian Nail Artist
Student/Apprentice Hairstylist
Quebec Hairstylist
Salon Interior Design
While the Catessas are not real, the Contessa Awards are. Learn more about the longest-running hairdressing competition in Canada!