What do those backstage nail artists and on-set techs keep in their arsenal of nail products? We've tapped some of the pros to find out which go-to shades and tool kit essentials they never leave home without.
Shelena Robinson, CND Education Ambassador
Nail kit essentials: When working behind-the-scenes nail artists must be flexible, creative and prepared to handle any request with a smile because things are constantly changing. My must-have while working behind-the-scenes are CND SolarOil, Cuticle Away, Kanga File and Scentsations Lotions.
Must-have shades: Full line of CND Shellac and CND Vinylux, especially in the new Modern Folklore collection for fall.
Gina Edwards, Celebrity, Runway and Editorial Nail Technician, Morgan Taylor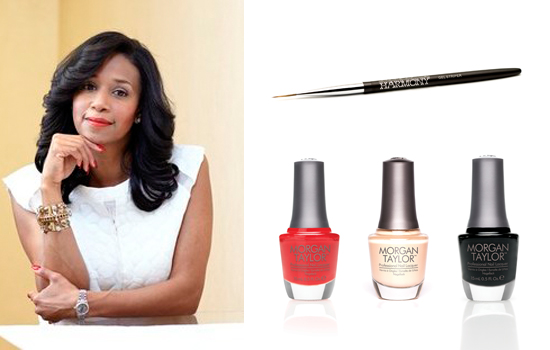 Nail kit essentials: My absolute essential tool is the dotter and striper brush. The dotter tool not only makes dots but it drags color. I also pick up my stonework with it as well. My striper is great for precision lines.
Must-have shades: An array of neutrals are always a must in my kit. Morgan Taylor's "Little Black Dress" (black), "New School Nude" (the ultimate nude), and "Firecracker" (red) are a few colors I don't dare leave home without.
Suzi Weiss-Fischmann, Executive VP, Co-Founder & Creative Director at OPI Products
Nail kit essentials: During fashion week, OPI nail technicians are always equipped with Expert Touch Lacquer Remover, Top Coat and RapiDry Spray.
Must-have shades: There are a few colours that have become staples for OPI nail technicians during fashion week and at photo shoots, including Alpine Snow, Black Onyx, Samoan Sand, Tickle My France-y, Lincoln Park After Dark and Coney Island Cotton Candy. These particular shades are so popular because neutrals and achromatic colors are often incorporated into nail looks.
Rita Remark, Lead Nail Artist for Essie Canada
Nail kit essentials: A variety of brushes are essential and I also have several sizes of dotting tools and non-latex cosmetic wedges to create the ombré effect. When working backstage or on-set I always carry two products that make my job easier: Essie's Apricot Cuticle oil and Quick-E Drops, which moisturize and hide dryness and prevent smudges.
Must-have shades: When building a proper nail polish collection, you never want to forget a few essentials, with sheers like Essie's "Mademoiselle" and "Allure" along with my more full coverage go-to's like "Ballet Slippers" and "Topless and Barefoot". With colour I bring "Fifth Avenue" and "Bordeaux", a few chic contemporary greys, "Chinchilly" and "Smokin Hot", some classic jewel tones, "Midnight Cami" and "Sexy Divide" and of course never forget the artist staples: black "Licorice" and white "Blanc".