Photoshoots can cost you but the benefits and rewards are well worth the investment. We spoke with hairstylists and salon owners who share their opinions on the added value of photography, beyond competitions.
Become More Creative
"Eight years ago I had an accident that left me unable to work behind the chair, but I didn't want to leave the industry. I started doing photoshoots, working with photographers who are close friends and I began to focus on working more creatively. I'm now trying to do things in a different way to encourage people to be more creative and to bring that fun back." —Darcie Chapman, Freelance, Calgary
"When it comes to taking risk with photoshoots, ask for brutal honesty, look for people to give you that and just keep trying. You have the opportunity to work on the art and craft of shooting itself. You need to look at the wants and needs of clients when they are in your chair, but this is much different. You have to have someone with true experience, who has a professional skill level and eye." –Michelle Finlayson, Freelance, Edmonton, Alta.
Establish Your Profile
"A lot of people are trying really hard. We are always growing the team that I've been working with collectively and that's because it's easier to notice new talent. It takes, time when you're running a business but I've had some cool things happened." —Darcie Chapman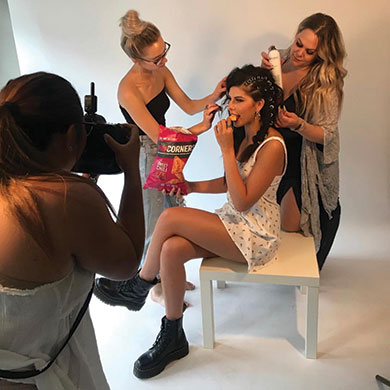 Get Your New Talent Noticed
"Becoming a Contessa finalist is a huge way to get recognized. The first time I entered for New Hairstylist of the Year, I competed in a live, onstage competition, and was thrilled about it, but I wasn't putting out work that was genuine to me." —Michelle Finlayson
Create Your Own Content
"Photos have always been important. The inspiration you get as a hairstylist from them is even more so. It can be hard to pick a new salon for the first time, being able to see a review with a photo is key for your clients." —Felice Valvano, Valvano Salon, St. Catharines, Ont.
Develop Confidence in Your Craft
"If you can achieve something you haven't achieved before, it will help you be more confident with your clients. If you do a shoot for fun, that should be evident and you should look like you're enjoying the process. Your clients will recognize your enjoyment." —Felice Valvano
"You need to talk about what you're doing with client's hair, but you also have to turn the conversation to industry, hair and fashion to make yourself stand out and highlight your drive and passion. It's not just about Instagram photos. We do this for the love and art of the craft." —Michelle Finlayson
Awards Are Huge
"Now that I'm teaching classes, I'm trying to get more people to enter competitions. The change that can happen as a result of a photoshoot can be a new opportunity, which can be a very good thing." —Darcie Chapman
Self-Made Marketing
"Salons are using their photoshoot images as artwork. It's cooler if you have a feature wall that changes and lets your clients know that your salon is involved in the industry. They also want to know your team did hair for a fundraiser."
"We are an image-based industry—the whole reason we take photos of our work and post them is so people can see. Whether it's a wall or a window display, then it's the salon's work that you're using as marketing." —Felice Valvano
Old School to New School
"By taking a photo, you have something to put out there. For stylists, the skills you gain from seeing the flaws in photos help you to analyze your work and use constructive criticism to make your work better in the future." — Felice Valvano