As the rise of women in the beauty industry continues strong and steady, we caught up with individuals who are stepping up their game as creative leaders, business builders and all around outstanding professionals in their own right. Here's what each had to say about staying focused, engaging the next generation and more! Here is part two of our three-part series.
5. Jody Kezar
BEST KNOWN AS Hairstylist for 15+ years, co-owner of Evolve Hair Studio in Toronto and co-founder of The Elevated Stylist—Canada's first all-inclusive education and wellness retreat designed specifically for hairstylists.
ON CO-FOUNDING THE ELEVATED STYLIST "The hair industry is at a point where we need to come together, especially in light of social media. We need to be supporting each other face to face. There's nothing that beats a human connection. We want to build a community. Our [slogan] is 'Together we rise.' Everybody shares with each other. There are different ways and outlets to being successful. This is such an amazing industry, but I think for such a long time [hairstylists] haven't been taken seriously. The industry is ready for a shift. I think everybody is sick of being looked at as 'They're just artists.' But really, we make people beautiful and help people feel good and confident every single day. In order for you to feel passionate and confident behind your chair, you need to be involved with people like that."
MINDFUL MATTERS "As hairstylists we need to be more mindful, not only with our guests but with ourselves. We keep thinking about the next appointment, the next this, the next that. Mindfulness is about being here, now. When you focus on being [present], you experience less stress, less anxiety, less depression and less burnout because your brain is not working overtime thinking about a million different things that you have to do."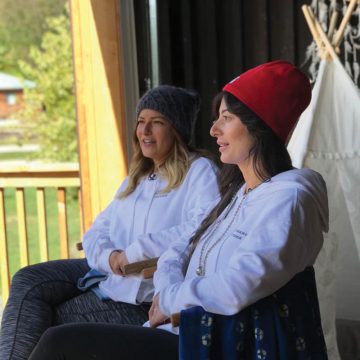 6. Sonia Yarkhani
BEST KNOWN AS Hairstylist for 15+ years, co-owner of Evolve Hair Studio in Toronto and co-founder of The Elevated Stylist—Canada's first all-inclusive education and wellness retreat designed specifically for hairstylists.
BATTLING BURNOUT "[Jody and I] were doing everything in the salon—working almost five days a week, trying to manage our staff while trying to expand our salon at the same time. It got to a point where we were burnt out, and that can lead you to react to a lot to things; it could be the smallest thing and it could set you off because you're just tired. You're always putting energy out but you're not replenishing it in. We both—separately—took the road to mindfulness, and then it led us to take a course together. That was what really helped us, together, as a team, shift the salon. Having that balance and really being firm about your decisions; 'No, I'm not going to take that extra client for that extra bit of money. Or I'm not going to sacrifice my lunch.' You have to learn to say no. It takes a lot of power to say no. Mindfulness has taught me that. Naming [our salon] Evolve keeps us evolving. We stay true to our name, and it push us forward through adversity."
7. Matula Liounis
BEST KNOWN FOR A men's hairstylist with 20+ years of experience, and All-Star Educator for American Crew Canada.
BEING A MAN EXPERT "I think I was more attracted to men's haircutting because both of my grandfathers were barbers back in Greece, which is where my parents are from. My brother played soccer, so when I was training to cut hair, I would cut his and all of his [teammates'] hair. I've always felt comfortable cutting men's hair and explaining to them what I'm doing and why I'm doing it."
BEING A WOMAN IN A "MAN'S" WORLD "Sometimes I think when people see me, for example, wearing a dress, they might think 'Oh, she's going to cut men's hair? She's going to show us how to use clippers?' And I think that's just my image. We all have our own image. I dress up, and sometimes when I walk into a room and someone is teaching men's hair, they may not expect me. They might be expecting what a lot of barbers look like now."
TEACHING STYLE "As a woman, I think I'm a little more compassionate. If someone is having a really hard time in a hands- on class, I'm more like a motherly figure. I really want to help them [understand] it. I don't care how long it takes! I won't dismiss the person having struggles."
8. Dana Lyseng
BEST KNOWN AS Contessa award winner, hairstylist for 25+ years, owner of Supernova Salon in North Vancouver, mentor, educator and top stylist for Wella.
FROM THE GROUND UP "For the first 10 years [of being a salon owner], I had a very small salon, which is how a lot of people start. But I had aspirations for more—to have a bigger team, to be able to learn from different people, to teach people, and to be honest, to have a bigger influence in the industry."
EDUCATION TODAY "I just want to support young, talented hairstylists coming out of school, and for them to have an opportunity to learn and grow and become great hairstylists. Our industry is changing and having a bigger salon really offers me the opportunity to do more for the industry—to be part of it in a bigger way, and to make a difference."
TEACHING AND LEARNING "I've learned not to impart my vision onto somebody else's vision. The point is to help them figure out what they're doing and offer them options on how to get there. It's one thing to copy what somebody says, and it's another thing to truly understand. If we never push it and make mistakes, are we really learning? I think it's ok to fix things every once in a while. That's where you really learn."
9. Jennifer MacDougall
BEST KNOWN AS Television and editorial hairstylist
BEST EXPERIENCE "I loved Project Runway, I did the show for six seasons. One moment that stands out from that experience is working with Joan Rivers. She was a guest judge and her hairstylist was sick so I was chosen to do her hair and I got booked for another job with her in L.A."
SALONS OF THE FUTURE "There are a lot of opportunities to use apps for consultations. I picture the mirrors at salon stations to be able to be swiped across. There is a lot of room for this in the salon, but we aren't there just yet. I think we're going to see a lot more ways to reach the client digitally. I think you'll see more in-salon experiences being offered."
ADVICE FOR GEN NEXT "Keep yourself out there and believe in your work. Ask questions, network, and take the education you need to. Never wait for anyone to give you the opportunity. A lot of people see success and term it as luck—they don't see the work in between it all. Don't be afraid to ask for the opportunity of someone in a role you want to be in, that's important. It's not only the glamorous part you'll have to deal with."
Click here to see Wonder Women Part 1!