As the rise of women in the beauty industry continues strong and steady, we caught up with individuals who are stepping up their game as creative leaders, business builders and all around outstanding professionals in their own right. Here's what each had to say about staying focused, engaging the next generation and more! Here is part one of our three-part series.
1.Dawn Bradley
BEST KNOWN FOR Focusing on stylist-to-stylist health/wellness with @theanxiouscreative, a podcast about cultivating creativity through anxiety.
ONE TO GROW ON "Going through my own personal journey dealing with what anxiety is, and then realizing that other people feel this way, made me realize I wanted to be someone I would have benefitted from having in my life during those difficult times. There are so many skilled stylists out there that haven't learned how to communicate clearly; my new education has been born out of my own self-doubt, learning how to trust the process and helping myself and others communicate better with clients."
GOOD WORK "I donate 10 per cent of my online earnings to a women's shelter in Calgary because when I first started my salon, I was in an unhealthy marriage. With my salon, I wanted to create a place where women could come and be themselves, take the weight o their shoulders and feel supported. I would love for there to be more support out there."
LISTEN UP "I started the podcast with the idea of my clients talking to me, and the whole idea of oversharing in the salon chair. I knew I wanted it to be more, but sometimes you have to start things and they evolve organically. Now it's about relationships at work, with your clients and how anxiety can sometimes take over. It's been a great way to relate to people, and it's really rewarding!"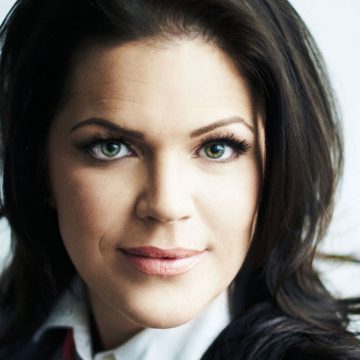 2. Leeanne Colley
BEST KNOWN AS A Contessa award-winning editorial nail artist and owner of Tips Nail Bar in Toronto.
LEADERSHIPS SKILLS "I feel we have cultivated a team of award winning nail artists who are always looking for new ways to grow. My team members are partners, not staff. You really have to focus on creating an amazing culture in order to build something amazing. I would also say being open and honest with yourself has helped me a great deal."
PROUD MOMENT "I recently had one of those pinch me moments when looking back at how the team has grown. We now have [more than] 25 team members and we continue to keep our standards high. There's also a very specific focus on keeping colleague relationships strong.
TEAM IN TRAINING "We are all represented by an artist management group, so everyone on our team can do advertising campaigns and work with celebrities. There are so many exciting opportunities that extend beyond working in the salon."
FIND YOUR PASSION "Seeing my team members grow, finding out how to get them to the next steps and finding out what excites them— those are all part of my passion."
3. Janet Jackson
BEST KNOWN AS A celebrity hairstylist, TV personality, and owner of JouJou Hair Studio in Toronto.
EMBRACING THE UNEXPECTED "I wasn't planning on being a hairstylist but I became passionate about being able to transform people and help them see another version of themselves. Now, I have a salon with a sta of 15. I came from a low-income family and grew up in a stereotypical bad neighbourhood, so, people who know where I came from and see where I am now, remind me of how far I've come."
STARS ALIGNED "I'm known for being able to work with all hair types and textures. Celebrities come back [to me] because I not only style their hair, I'm concerned about caring for their natural hair. When working with celebrities, you can't be sensitive with who you are as an artist. Listening is key; I always tell stylists, 'Never act like you know it all.'"
BREAKING BARRIERS "Even now, the industry is very male-dominated. Not only am I a woman, I'm also a woman of colour, which makes it a little harder. In this industry, there have been many times when I've felt like an outcast, but I always look at these scenarios and take the positive from them. The fact that I'm not seeing someone like myself at the top is very discouraging, but it's not going.
4. Rossa Jurenas
BEST KNOWN AS A Contessa award-winning hairstylist and North American colour director for Schwarzkopf Professional
POWER OF PRESENTATION "We are all learning from each other. When you inspire one another on stage and presenting, my favourite part is telling a relatable story, that's the cool part. I used to feel that showing the overall look was important but it's much more than that. The past couple of years it's been fun being able to relate in this way."
ADVICE FOR GEN NEXT "There's a difference in taking the whole concept versus being inspired by the techniques of others. For example, I started using paint rollers to colour hair. You aren't using that in a salon, but from seeing someone do that you can build something with your own ideas."
NO MATTER WHERE YOU ARE "I live in a small town, I have kids and I'm still following my passion. It can be done! Yes, there are going to be ups and downs. Our industry is a roller coaster, but don't dwell on the negativity. Take ownership of your situation and other doors will open for you. You need to think about how to get better."