Now that summer's in full swing, you'll likely notice more clients are looking to embrace their natural texture. And this can be good news for salons, as more are looking to cut down (or eliminate) their blow-drying time.
From cutting to finishing, we're breaking down the curl types and asked curl specialists for their must-have tips and tricks to keep you from spiralling out of control this season.
Consultations
As you've heard time and time again, a proper consultation is key, especially when it's your first time working with a client's hair. "I choose how I approach hair types based on the actual curl pattern sitting in front of me," says Janet Jackson, a Toronto-based hairstylist and owner of JouJou Hair Studio. "The first thing you need to know or identify is their curl pattern or texture, so I have that conversation first, before I actually touch their curls." Details to look out for: How tight, loose or defined the curls are, whether the hair is coarse or fine, and any damage (frizz, dryness, etc.). You need to take the time to analyze their curl type and pattern.
Remember: There isn't a one-size-fits-all formula when it comes to working with textured hair!
When deciding on the shape you'll create, it's also important to consider the client's facial features and what length and layer style would compliment them.
---
Waves and Looser Curls (Type 2: A-C)
Here's what you need to know if your client has looser waves and longer curls— forming more of an s-shape, rather than a fully-defined ringlet.
Haircutting: 
Jackson, who prides herself on working with all hair types, says it's crucial to customize your technique for each client. When she works with looser curl patterns, she often prefers to first cut the hair wet and then once again after it's dried, so she's able to fine-tune the details and do any extra clean-up later on, if necessary.
For clients who walk into her salon with hair that's already styled in its natural state, she will sometimes take the opportunity to cut their hair while it's dry to avoid any surprises. "This helps give me a guideline as to how much I'm cutting," says Jackson. "That way, I know that whatever I cut, when I go back in I know not to cut more than I've already started cutting."
When it comes to shaping the hair, Antonio Quintieri, a top stylist with Wella Professionals and a curly hair specialist, says he initially cuts hair wet, and applies some product to add more tension and grip when cutting. Then, he goes in with a razor or shears to fine-tune any details.
"You really have to analyze where the movement is in the curl to cut it properly," he explains. "And I like to scoop away with a pair of shears or a razor on the inside of that "s" formation of the curl. You're always cutting on the inside of the shape to not disturb the curl and let it fall naturally." Quintieri adds that this is an important technique when working with more delicate and visible sections like bangs or outer layers.
Styling: 
Since every client has their own unique hair needs, it's important to first ask yours what they're looking for and are in need of (for example, frizz control or volume). Then, help them create an easy and realistic product routine that they'll be able to follow at home. "I always start off the conversation with, 'What's your current routine? What works for you? What products do you use?' and other questions to further understand their lifestyle and how much time they have to put into their haircare routine," says Yene Damtew, a member of DevaCurl's expert curl council and salon owner based in Washington, D.C. "Based on that, I will teach them about the necessary products to target their hair goals, and show them how to properly apply them."
---
PRO TIP: Damtew recommends working with more watery, lubricant types of products when dealing with finer and looser waves and curls to not weigh them down, but if your client has coarser hair, it's better to work with a creamier product to add more weight and hydration.
---
Curly (Type 3: A-C)
These types of curls are slighly tighter and can come in many shapes and sizes. From looser ringlets to tight corkscrews, here are a few helpful techniques.
Haircutting:
When working with tighter curls, Damtew prefers dry cutting because that's when the hair is in its natural shape. That said, you need to consider the hair's moisture level since that can affect the curl's "spring-factor," which is how much the hair shrinks and springs up when you pull the curl down and let it go. "The spring- factor is going to differ, so you have to leave a little wiggle room," she says. "I do the majority of my shaping dry, and then perfect and refine my cut after it's been moisturized and I've gone through the curl transformation process. But I suggest altering your technique depending on the curl's density and tightness."
This shrinking effect is why it can take clients more time to grow out their hair (and it's also the reason haircuts can sometimes be a not-so-pleasant experience!) "It can be scary if you're cutting a tight curl and you end up with a result that's significantly shorter than you expected," says Quintieri. "Learning how to deal with how that curl is going to revert back and sit when you cut it is super important in knowing how to deal with cutting textured hair."
---
"As their hair doctor (as I like to call [us]), are you prescribing them products they're going to have to really work in, or are you whipping up a cocktail that they'll be able to quickly mix in their hair and let air- 3 dry as they're running out the door? You have to understand the type of client that you're working with, and that will type determine the products and routine you suggest." —Yene Damtew, DevaCurl expert curl council member and salon owner
---
Styling: 
Consult with your client about the type of finish (defined or undefined) and help them select the right products for their hair type. Start by applying the curl cream, gel or mousse with your fingers or a fine-toothed comb (smaller sections are key to ensure it's evenly distributed). Then, scrunch the hair up for volume or work the product through the hair in a downward direction. To finish, work with a diffuser on low or medium heat, and lower air settings (low and slow ensures less frizz). Some stylists also prefer air-drying, but it's all about the client's preference. Use a finishing oil to seal their curls and add a touch of shine while also smoothing any flyaways and frizz.
---
Tighter Curls and Coils (Type 4: A-C)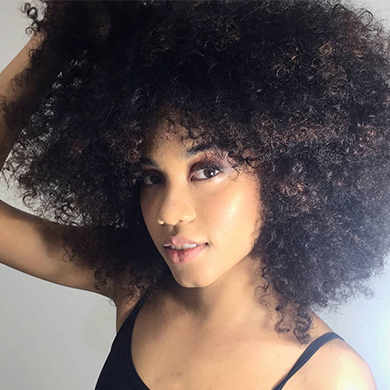 When working with the tightest coils and ringlets, it's important to remember that these can be both defined and undefined—depending on the client's natural growth pattern and styling routine. Make sure to keep these factors in mind.
Cutting: 
When working with an extremely tight curl pattern, Jackson says she sometimes blows out the hair first to be able to have more control, but the inclusion of this step ultimately depends on the client's lifestyle and how often they wear their hair straight.
"This is helpful when you need a bit more control," she says. "Sometimes, the curl is so tight that there's no accuracy when cutting it."
As a veteran hairstylist, one common mistake that Jackson notices is overtexturization. "A lot of hairstylists want to thin the hair out, whether it's at the root or at the ends, and that's a big no-no," she says. "If you do it at the ends you'll create more frizz, and if you do it at the root the curl pattern will look frizzy." Another important factor to consider is that curly clients can often have multiple curl patterns. Generally, you'll see looser textures on the top of the head, tighter curls near the crown and then the loosest curls by the nape of the neck. With that in mind, Damtew emphasizes the importance of cutting with tension and stretching the curls out in order to make sure your cut is even. "You have to figure out how to manipulate their hair so when it's all cut and finished, all the different curl patterns look uniform," she says, adding that this why some stylists like to blow-out the hair first or will make sure to evenly stretch the curls out when cutting different sections.
Styling:
Not all curly clients are going to want ultra-defined ringlets. Others may want to keep their curls lighter, undefined and more voluminous. Choose your products and techniques based on the style they want to achieve, and remember that when working with coarser and thicker 4-range hair, moisture is key. Help clients rehydrate their curls with thicker, creamier products. Similar to working with Type 3 curls, make sure to evenly apply the product throughout—every hair needs to be coated. Once you dry the hair, don't forget about finishing! Use a curl oil to add an extra dose of shine and moisture, which will also minimize frizz.
Regardless of the products or techniques you use, remember that your client should be able to go home and redo the look themselves. "As their hair doctor (as I like to call [us]), are you prescribing them products they're going to have to really work in, or are you whipping up a cocktail that they'll be able to quickly mix in their hair and let air-dry as they're running out the door? You have to understand the type of client that you're working with, and that will determine the products and routine you suggest."
---
Colour Tips for Curls 
When working with curly colour clients, it's important to properly educate yourself beforehand and adjust your placement and application techniques.
The first thing to keep in mind is that curls tend to be more dehydrated than straighter hair textures. This means you need to take the proper precautions to protect the hair follicles and use lower-volume lighteners to not cause any damage or breakage.
"The main concern that hairstylists should have is whether or not the colour they're choosing is going to change their curl pattern by damaging it," says Jackson. " Someone with a tight curl pattern could end up having wavy hair if you're using the wrong chemicals on curls."
Make sure to work low and slow with a lower volume lightener to avoid breakage and permanent damage.
Next, with tighter and more-defined curls, it's important to treat them as three-dimensional objects in order to have the colour shine through and not hide inside the curl.
"If you paint very softly, then it'll get hidden. You don't want it to be on one side of the curl, and not on the other side," says Damtew. "Every time it loops, you want to make sure the same consistent amount of colour is on that curl."
Similar to working with straight hair, if their hair is finer, Damtew recommends breaking it up into larger sections, and if it's dense and coarse, go with smaller sections. In terms of application, it doesn't change that much with the use of foils or freehand if you're adding smaller details like highlights.
Lastly, similar to cutting, tension and stretching out the hair is very important. Before going in with colour, Damtew makes sure their hair is already stretch out, detangled and not heavy with product. This way, she can easily section the hair and dive right in. She often asks her clients to come in with their hair prepped or does it herself.
---
Must-Have Products
Curly Hair Solutions Dry Oil Elixir
Packed with Omega 3, 6 and 9, this hydrating oil is perfect for finishing your client's curls with brilliant shine.
DevaCurl Melt into Moisture
Bring curls back to life with this hydrating and smoothing treatment packed with matcha butter, sweet almond oil and beet root extract.
Wella Nutricurls Curlixir Balm 
This nourishing, leave-in balm offers the perfect amount of hold, definition and bounce to waves and curls.