Want to know what it takes to be a well-rounded haircutter? We're breaking down the tips, tricks and techniques from industry experts to help you refine your skill set.
For those outside the beauty industry, haircutting may seem like a rather simple, straightforward task, but those in the hair world know great cuts take years of practice and skill.
Each haircut is different, and not just because of the different hair lengths, textures or even the different genders of your clients, but because a good haircut takes into account the person's head shape, hair type, personality and facial features. It's about seeing the whole package and creating a flattering look that makes them feel their best.
---
"I CAN GIVE ANYONE A HAIRCUT THAT I THINK WILL BE SUITED TO THEM AND LOOK AWESOME AND FLATTERING, BUT IF THEY'RE NOT CONFIDENT WEARING IT, IT'S NEVER GOING TO BE THEIR BEST LOOK. IT'S IMPORTANT TO WORK WITH YOUR CLIENT AND HAVE THEM TRUST YOU." –JOHANNA LIBBEY, CO-OWNER OF MOODS HAIR SALON, VANCOUVER
---
Since cutting hair during the COVID-19 pandemic has created a new set of challenges (with clients wearing masks, you can no longer see their facial features throughout the service), there's never been a better time to put the focus on refining your skills. And with some salons still under lockdown, using your extra downtime to learn new skills can yield considerable rewards.
"I could be working on a set of twins with the same hair sections, same hair length and hair type, but one twin is going with an edgy bob and the other is going for a bit of a longer look," says Kathy Simon, owner of Mekka Salon in Montreal, "They're completely different because the detailing and finishing can change the whole haircut."
Short
When it comes to cutting shorter hair, some stylists can struggle with the process, while for others it's almost therapeutic. No matter how you "slice" it, taking your time is essential.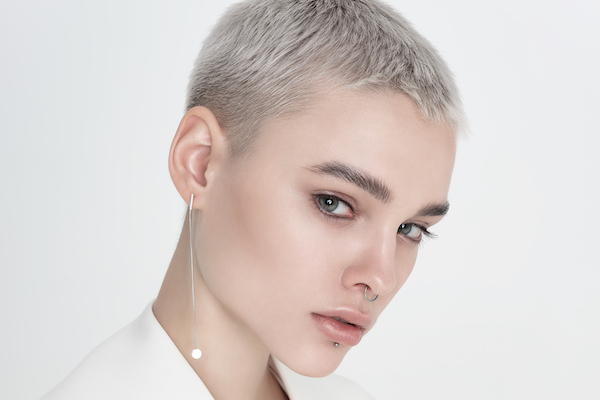 "Make sure you're not removing too much hair. A lot of us are overly excited when we cut hair and go for it a little too quickly in the beginning. I recommend being a bit cautious where you begin, because it's easy to continue to remove more over time." —Lindie Blackwell, master stylist and colourist, Gravity Salon Professionals, Barrie, Ont.
"When it comes to a shorter/ textured haircut that has less precision to it, I enjoy doing point cutting and a lot of weight removal—depending, of course, on the density of the hair. I like to feel the hair, and while I still remain technical there's a lot of feeling that goes into the hair as well as finessing at the end of the service." —Kristin Rankin, owner of Fox & Jane Salon, Toronto
"Before anything, an amazing consultation is absolutely necessary. Detailing on a short cut is where it gets really personalized and where you get to customize it. I recommend having a good shape/silhouette to start. Knowing your outline is important." —Johanna Libbey, co-owner of Moods Hair Salon, Vancouver
---
PRO TIP: WHEN CUTTING SCISSOR OVER COMB, RANKIN SAYS USING LONG, SIZE 7 SHEARS HELPS CREATE A NATURAL FLOW WITH MORE COVERAGE AND CONTROL.
---
Textured/Curly
When cutting textured and curly hair, more planning is often required. Since curls look and behave differently when wet vs. dry, it's important to work with your client to help them achieve a look that works best for them and their at-home styling habits.
---
PRO TIP: WHEN CUTTING AFRO HAIR, LIBBEY SAYS SHE USES A PICK TO COMB THE ENTIRE HEAD AND EXPAND THE SHAPE AS MUCH AS POSSIBLE BEFORE SHAPING, AND WETS THE HAIR BEFORE RIBBONING AND SETTING THE CURLS.
---
"Curls are going to retract back, which means I'm going to have to think about my finger angles. The same angle can create different results because the hair retracts back in."— Kathy Simon, owner, Mekka Salon, Montreal
"Curly hair can vary so much because the size of the curl depends on its type and tightness. I always ask my curly-haired clients to come in with how they'd normally wear their hair, so I can see their capabilities and techniques on a daily basis of the client—in terms of how they style and wear their hair. I give them a haircut they can work with every day. I wash and dry the hair and sometimes add a few small details at the end." —Kristin Rankin, owner of Fox & Jane Salon, Toronto
"I start by working on the structure and shape, and determining where I'm building my weight. You really want to map out the haircut well and give it a really beautiful outline. After I determine the shape, I go back in and remove weight where I need to. This is also a great time to refine the details." —Johanna Libbey, co-owner of Moods Hair Salon, Vancouver
---
PRO TIP: WHEN IT COMES TO LOOSER CURLS, RANKIN SAYS IT'S MAINLY ABOUT REMOVING WEIGHT. "THE CURL IS SOMEWHAT SLIDING DOWN, SO I'LL TAKE A ONE-INCH SUBSECTION AND COIL THE HAIR. THEN I SLIDE IT DOWN TO REMOVE SOME OF THE WEIGHT WITHOUT COMPROMISING THE PERIMETER."
---
Cutting and Gender
While many salons still charge for haircutting services based on gender, the gender-neutral movement has helped more people realize that associating certain styles/cuts with a particular gender can be limiting to people who identify as non-binary.
"When a person sees that a salon's menu is separated by men's and women's cuts and they don't identify with one/either of those, it sends the message that this person doesn't matter here," says Rankin, who uses they/them pronouns, and has firsthand experience with this problem. "The goal is for people in the LGBTQ+ community to leave the salon happy—the way cis-gendered clients do—which is not always the case when you don't identify within the gender norm."
Now, more stylists are starting to factor in the length of hair and the time it takes to cut. Not only has this impacted their pricing structure, but also helps make their salon a more inclusive space. "Techniques themselves are nongendered," says Rankin, who suggests listening to a client's wants/needs before assuming what they are looking for. "Allow them to lead the conversation about the look they want."
While Libbey says her techniques are based more on the client's natural texture rather than gender, there are some exceptions. "There are some basics I follow when creating a more traditionally 'masculine' shape," she says, "because men typically have a squarer head shape."
For Blackwell, it's more about factoring in the client's facial structure and hair texture, but
also their lifestyle. "In general, I've noticed a difference in their willingness to use styling aids," she says. "For example, men typically don't blow-dry their hair, so for those male clients, it's important to give them a haircut that doesn't require too much styling."
Long
Since many long-haired clients can be emotionally attached to their long locks, a lot of precision, thought and care should go into creating the perfect cut. Listening to your clients' needs and finishing off the service with a perfect style and finish is crucial.
"I keep the integrity and length of the hair to the best of my ability. My specialty is the 'invisible haircut' where I just dust off the ends, so a lot of 'mermaids' come to me." —Lindie Blackwell, master stylist and colourist, Gravity Salon Professionals, Barrie, Ont.
"Long hair requires a lot more internal work and weight removal, but at the end I still finesse it, finish it up nicely and do a bit of dry cutting. That's where I find you can make the hair shine at the end, with styling." — Kristin Rankin, owner of Fox & Jane Salon, Toronto
"It's important to listen to clients and find out where they're looking for volume and where they're looking for movement, and not take off more than they're asking. It helps build trust with them so they will also come back again sooner." —Johanna Libbey, co-owner of Moods Hair Salon, Vancouver
---
PRO TIP: WHEN CUTTING LONG HAIR, BLACKWELL WARNS AGAINST OVERCUTTING. "IT CAN BE OBVIOUS WHERE YOU DISTRIBUTE YOUR WEIGHT WHEN IT COMES TO LAYERING, SO THAT'S A WATCH-OUT AREA."

---
The shag and modern mullet (think: Miley Cyrus) are sure to continue turning heads this season—and for all the right reasons. While these looks may just seem overly texturized to create a more dishevelled result, they are actually cut with a lot of precision and technique.
Even clients with finer hair can get in on the trend, as shaggy looks are typically created by cutting vertical layers, leaving more length and weight at the top of the head and creating the illusion of a thicker and more volumized look. "When it comes to a short cut, when I want to see some texture and the hair is a bit denser and doesn't get a lot of volume, I like to do layers like a shag or a mullet," says Rankin. "I'll go in with a razor to bring out some of the texture."
---
PRO TIP: WHEN CUTTING HAIR DURING THE COVID-19 PANDEMIC, BLACKWELL SAYS SHE ASKS HER CLIENTS TO SHOW HER A SELFIE ON THEIR PHONE. "WE NEED TO SEE THE STRUCTURE OF THE FACE, IN ORDER TO DECIDE WHICH FEATURES TO ENHANCE AND WHICH FEATURES TO TAKE ATTENTION AWAY FROM. IF I WANT TO ENHANCE CHEEKBONES OR SHORTEN THE JAW LINE, THOSE ARE DIFFERENT THINGS. WITHIN THE LIMITS OF THE TEXTURE AND DENSITY OF MY CLIENT'S HAIR, I NEED TO KNOW WHICH STYLES THAT PERSON'S HAIR CAN AND CANNOT SUPPORT."
---
The Five Keys
According to Simon, "the greatest secret in the world" for good haircutting is about five very distinctive keys. "Independently, each of these keys do nothing, but when you put them together, you create different structures," she says. "Really great haircutting is about understanding the five keys and knowing that as soon of one of the keys change, the whole look changes."
Simon also believes that there is no sex to haircutting but rather just adapting your method based on your specific client. "My system works on any type of hair and any head shape," she says, "regardless of gender."
1 PATTERNS AND SECTIONING
the process of moving through a haircut and understanding how it will flow.
2 MANIPULATION
how your finger angle relates to each hair section to determine how it'll build up the shape.
3 LENGTH
determining what length you're going to cut, because even if you use the same sectioning and finger angle, the weight sits differently [depending on the length] and will change the haircut.
4 HAIR TYPE
understanding the type of hair you're working with because you'll get different results based on it.
5 PERSONALIZATION
personalizing the cut to make it unique to each individual in your chair.