On Sunday April 25th, Wella Professionals hosted WE Create, an online hairdressing event featuring educational classes, how-to demonstrations and new collections from some of the brand's top international artists.
The event consisted of more than four hours of inspirational, educational and business-related content specifically for hair professionals to help them further excel at their craft and succeed both professionally and personally.
Crafted as if it was a TV show, the event's online platform consisted of two channels broadcasting brand-new, original content. Hosted by hairstylist Patrick Cameron—channel 1 being "WE Inspire" and channel 2 being "WE Transform," including a welcome message from Wella Company's CEO Annie Young Scrivner, the announcement of the winners of the 2021 International Trendvision Awards and more.
Wella artists and educators from around the globe did not disappoint in providing us with plenty of jaw-dropping hair inspiration, transformations, techniques and hair hacks throughout the jam-packed day!
One of the event's highlights was the premiere of the World Class Colour collection. Attendees could see "episodes" of the making of the collection before the big reveal. Plus Wella's creative director, Reiner Sauter, discussed the challenges of creating a joint collection with guest artists Sonya Dove, Michal Bielecki, Robert Eaton, Hide Saiga, Abby Smith and Renya Xydis.
For the Blonde Ambition collection, international guest artists Darren Ambrose, Briana Cisneros, Jordanna Cobella, Jayson Gray, Kim Sang Hee, Nicole Revish and Dmitry Vinokurov explored the versatility of the blonde palette on a diverse range of models.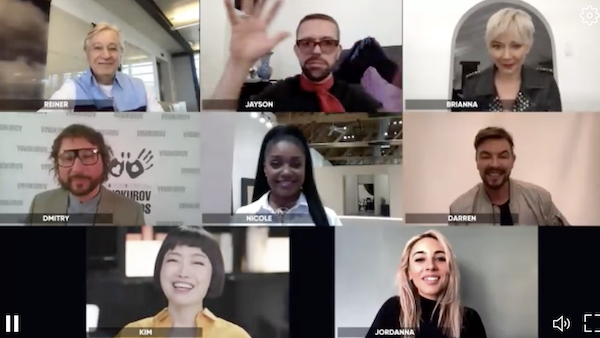 Other notable sessions included ghd global ambassador Zoe Irwin showcasing the new ghd Max styler and offering handy styling tips, as well as Sebastian Professional global art director Shay Dempsey introducing their newest release, No Breaker, and sharing his signature blading technique.
In the Transformation episodes, Wella artists Romeu Felipe, Alexis Ferrer, Akin Konizi, Zach Mesquit, Patricia Nikole and Diane Cole Stevens each took us along for the journey of completely transforming their model's look while offering product suggestions and tons of pro tips for colouring, styling and more!
Finally, a series of Business Session Collective episodes from Christophe Nicolas Biot, Briana Cisneros, Jordanna Cobella, Robert Eaton, Matthias Herzberg and Renya Xydis covered everything from building client connections to embracing sustainability.
Missed out? Check out our Instagram (@salonmagazine) for our highlights from the must-see event!