We spoke with Christian Wood, celebrity hairstylist for Wella Professionals, on what it's like to style for the stars and what inspired the look he created for Sophie Turner at this year's Vanity Fair Oscar Party.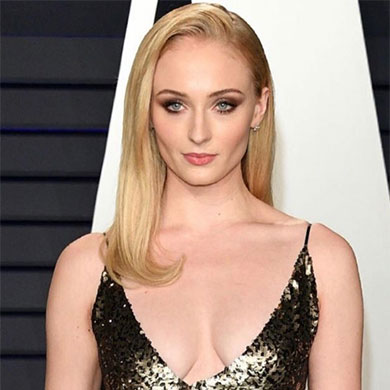 "She [Turner] had a gorgeous gold dress that had a retro feel to it," said Wood. "She's currently growing out her hair, so we decided to do a long bob with the ends turned up to give it a modern feel."
Wood, who began his career in London assisting for Sam McKnight, explains that it's a privilege to work alongside celebrities.
"A lot of times when I work with my clients, or Sophie, for example, it doesn't feel like work because we're having a laugh, being silly and having fun," he said.
"Sophie and I have worked together for so long that we've become close friends; it always feels more like we're hanging out while I get her ready, rather than being at work. Most of the time it just feels like a girls night, which is how we've built memorable moments that we can look back on."
When it comes to celebrity hairstyling, Wood's important piece of advice is to read the room.
"When I'm getting new clients ready for a big red carpet event and I've never met them before, that's when the nerves and apprehension kicks in for me," he said.
"It's important to read the room. There's a lot of aspects that go into the whole process of getting someone ready for the red carpet other than just being good at your job."
Wood explains that the importance of the overall client experience goes a long way in order to determine what the client wants.
"You'll quickly gather the sense as to whether someone wants you to be fun. Some people love it when you're outrageous, some people don't; some people like when you're telling jokes and some people don't like it when you're too quiet. That's why it's really important to read the room at all times to determine what the client wants."
Here's how to recreate Wood's look on Turner using Wella Professionals products.
1. Start by using Wella Professionals Oil Reflections Luminous Reboost Mask for five minutes, then rinse thoroughly. This will give hair a great base before styling.
2. Next, apply 2-3 drops of Wella Professionals Light Luminous Reflective Oil throughout wet hair and spray with Wella Professionals EIMI Thermal Image to protect hair during the blow dry.
3. Blow dry smooth using the ghd Air® Hairdryer and round brush.
4. Then, using a tail comb, add a deep side part.
5. Once hair is dry, use a ghd CURVE® Soft Curl Iron. Start at the nape of the neck and glide the iron down the hair in the same way as you would use a straightening iron. Once you get to the end, curl the iron under and hold for 3-4 seconds.
Tip: Using a curling iron instead of straighter will smooth out the hair in the same way, but still keep body and movement.
6. To finish the look, spray hair with Wella Professionals EIMI Glam Mist and brush through with a Mason Pearson. Keep brushing until hair is smooth and shiny, and the ends turn under.
7. To finish off the look, spray hair with Wella Professionals EIMI Stay Firm hairspray onto a toothbrush and glide over the roots and mid lengths to remove any flyaways. Spray the entire hair with a light mist of that same spray to keep in place all night long.
"Remember to take your time when it comes to styling. Don't rush, because when it comes down to the technical part, you'll already have a really strong base to work with," said Wood.
Photo: Wella Professionals/Instagram
How-To: Wella Professionals