With awards season in full swing and in honour of Black History Month, we've rounded up a list of 10 leading Black celebrity hairstylists whose work has been gracing magazine covers and red carpets, with clientele ranging from award-winning actresses to chart-topping singers and more. Learn more about these stylists and get inspired by some of their most recent work.
Vernon François
Celebrity hairstylist and Redken global consultant Vernon François is known for his work in the natural hair movement, specifically with curly hair and afro-textured hair. He's behind some of Oscar-winning actress Lupita Nyong'o's most intricate styles seen on red carpets and magazine covers.
Ted Gibson
As an editorial and celebrity hairstylist, Ted Gibson's work has appeared in Vogue, Harper's Bazaar, Marie Claire and more. His past clients have included Anne Hathaway Lupita Nyong'o and Priyanka Chopra.
Greg Gilmore
Known for his colour transformations and ability to cut and style afro-textured hair, Greg Gilmore is a global colour ambassador for Moroccanoil and has worked on celebrity clients such as Tiffany Haddish and Toni Braxton.
Jared Henderson
Jared Henderson, also known as JStayReady, has a superstar line-up of clientele including Beyonce, Doja Cat, Naomi Campbell and Ciara, just to name a few. This self-taught artist's popularity has skyrocketed on social media with his wide range of trendy and versatile looks to inspire any hairstylist.
Felicia Leatherwood
Known as a celebrity natural hairstylist, Felicia Leatherwood has more than 20 years of experience and specializes in afro-textured hair. She's worked with celebrities like Issa Rae, Ava DuVernay, Skai Jackson and Lenny Kravitz.
Tippi Shorter
As one of the trailblazers for textured hair in the industry, Tippi Shorter is a celebrity stylist who's worked with celebrities such as Kelly Rowland, Alicia Keys and Serena Williams. She was the first global artistic director for textured hair for Aveda and is currently a L'Oreal Professionnel colour artist. 
Randy Stodghill 
Working in the industry for more than 20 years, Randy Stodghill has been creating a wide range of celebrity looks for stars such as Angela Bassett, Quinta Brunson, M adison Pettis and even the Kardashians.
Shelbeniece Swain
As the self-proclaimed "Beyonce of baby hair," Shelbeniece Swain is the celebrity hairstylist for singer-songwriter Lizzo. She's been working with the artist for more than five years and has collaborated on magazine covers, red carpet appearances and live performances.
Devante Turnbull
Celebrity and editorial hairstylist Devante Turnbull has been working in the industry for more than seven years. His clientele includes singers such as SZA, Kelly Rowland and Ari Lennox. His work is filled with striking, high-fashion looks that are seen on red carpets, magazine covers and in music videos.
Yusef Williams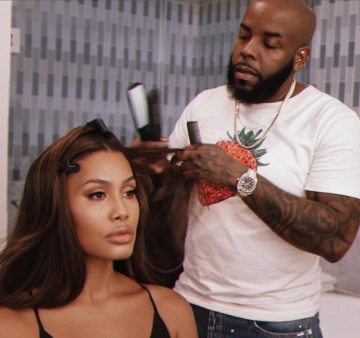 With Rihanna's massive comeback at the Super Bowl and her recent cover shoot with Vanity Fair, her hairstyles did not disappoint! From avant-garde braided looks to Y2K styles, celebrity hairstylist Yusef Williams has created some eye-catching looks that will inspire you to think outside the box.